SHARE:
$2M NIH Grant Brings Sophisticated Research Equipment to CNY
Biomedical, chemical research to accelerate with 800 MHz NMR spectrometer

9/26/2013
The video originally included in this story is no longer available via this page. Contact web@esf.edu if more information is required.
Copyright © All Rights Reserved by copyright holder
Biomedical and chemical research at six upstate colleges and universities will get a boost thanks to the acquisition of a highly sophisticated instrument that will provide researchers with the ability to look at complex molecular biological structures.
SUNY Upstate Medical University, in partnership with SUNY College of Environmental Science and Forestry (ESF), Syracuse University, Cornell University, the University of Rochester and SUNY Buffalo, has received a $2 million federal grant to acquire an 800 MHz Nuclear Magnetic Resonance (NMR) spectrometer.
The acquisition of the spectrometer will fill a void in the region's research landscape. This instrument will be the only one of its kind in Central and Western New York. While spectrometers of similar field strengths are available in the New York City area and in Troy, N.Y., access to these devices is difficult and some local researchers have had to travel far distances with sensitive research to complete vital analysis of proteins, or carry out the research via remote operation from laboratories miles away.
The acquisition will expand the existing capabilities beyond the 600 MHz NMR spectrometer that is currently housed at ESF's NMR laboratory.
SUNY and campus leaders applauded the grant award.
"It speaks volumes about the power of a system when this grant was led by SUNY Upstate, the equipment will be housed at ESF, and its use will be open to scientists from across Central and Western New York," said SUNY Chancellor Nancy Zimpher. "This will be a significant addition to the state's research infrastructure and will help propel Governor Cuomo's innovation agenda."
"This announcement today reflects the power of scientific collaboration," said Upstate Medical David R. Smith, M.D. "Providing researchers with the tools for scientific discovery need not be defined by campus boundaries as we work on the common goal of finding new treatments for disease."
"Structural analysis of natural and synthetic compounds is very important in the research being conducted by our faculty at ESF and our partnering institutions, said ESF President Cornelius B. Murphy, Ph.D. "We are excited at receiving this NIH grant and the promise that the 800 MHz NMR offers to increase research productivity in Upstate New York."
The grant's principal investigator said the new research instrument changes the region's research outlook. "The lack of ready access to an ultra-high field NMR spectrometer has put us at a disadvantage," said Stephan Wilkens, Ph.D., Upstate associate professor of biochemistry molecular biology. "With this grant from the National Institutes of Health (NIH), we will be able to accelerate our research.
"For example, due to the much higher sensitivity of this new spectrometer, data collection will be reduced from several days to fractions of a day, depending on the experiment," Wilkens said, "and there are some experiments that we cannot even do on the 600MHz. This new spectrometer will save us time and money."
Additionally, Wilkens said the grant could make research grant applications more competitive in Central New York, because of the availability of this high-level spectrometer. He said many research grants require a higher-field spectrometer and the NIH and National Science Foundation take into account a researcher's access to state-of-the-art equipment in deciding grant awards.
The instrument, scheduled to be installed in the fall of 2014 and housed in the NMR facility in Jahn Laboratory on the ESF campus, will be shared among the six universities and likely be available to researchers elsewhere.
Below is a list of some of the local researchers who participated in the grant application and whose work will benefit from the new spectrometer: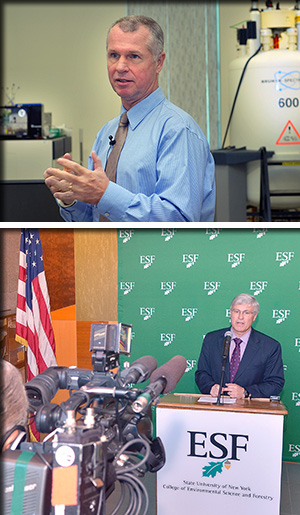 SUNY Upstate Medical University
Stewart Loh, Ph.D., professor of biochemistry and molecular biology: "We design protein switches. These molecules transform their shapes when they receive a signal. For example, some switches change colors when they bind to a target, and these molecules are being developed into fluorescent biosensors. Other switches self-assemble into various forms of biomaterials. The 800 MHz NMR will be able to 'see' how the switches change their shapes to a greater level of detail than is possible with lower field instruments or with other structural techniques such as X-ray crystallography.
Stephan Wilkens, Ph.D, associate professor of biochemistry and molecular biology: "The Wilkens lab studies the structure and mechanism of the vacuolar ATPase (V-ATPase), a large multi-subunit proton pump found in all animal cells. Malfunction of the V-ATPase has been found to be associated with widespread human diseases including osteoporosis, diabetes and cancer. The 800 MHz spectrometer will help us to not only unravel the V-ATPase's role in these diseases but also to identify therapeutic molecules (drugs) that may serve to modulate the activity of the disease causing enzyme."
SUNY College of Environmental Science and Forestry
Arthur Stipanovic, Ph.D., professor of chemistry: "Polysaccharides are long chain molecules, called polymers. They are composed of identical subunits, each of which contains one to several simple sugars in a species-specific arrangement. These polymers are ubiquitous in nature forming the structural support for plant cell walls, important components of connective tissues in humans and other animals; and they are extruded from a number of bacteria and other microorganisms as an extracellular capsular coating. In the case of certain bacteria, these polysaccharides are 'recognized' by the immune system in humans and they can elicit the production of antibodies that provide disease resistance (essentially, they can act as vaccines). The vaccines for pneumonia and bacterial meningitis are two examples of commercially available bacterial vaccines. The 800 MHz NMR will provide new insight into the 'recognition' mechanism between water-soluble polysaccharides and immunological activity."
William T. Winter, Ph.D., professor of chemistry: "The 800 MHz NMR spectrometer will also play a significant role in unraveling the complex interactions between different molecules within the plant cell wall and animal connective tissues, such as skin, cartilage, tendons. At present we know a great deal about the composition of each of these but our understanding of how such molecules 'work together' is highly incomplete. New knowledge of the synergisms occurring within these tissues will generate exciting opportunities for biomimicry leading to the creation of diverse new materials having the toughness of lobster shell, the iridescence of beetle shells and the mechanical properties of wood. We expect that structural chemists using the NMR will collaborate with geneticists and other biologists on the latter or with biomaterials and biomedical scientists on the former. As such, this instrument soon will open doors to collaborations that can be dreamed about at present."
Francis X. Webster, Ph.D., professor of chemistry: "We use high-field NMR to identify new insect pheromones and related compounds. This information is useful in designing methods of controlling pest insects in environmentally safe ways. Since insects only produce these compounds in infinitesimally small amounts, we are constantly challenged to obtain sufficient quantities of material to complete an identification. The new 800 MHz spectrometer is equipped with a special cryogenically cooled probe, which will allow us to identify new compounds in even smaller quantities."
Syracuse University
Philip Borer, Ph.D., professor of biochemistry: "My lab will use the new 800 to determine the three-dimensional structure of an AIDS protein bound to a sequence at the beginning of HIV-1 genomic RNA. It has been extremely difficult to work with this protein, but my student has made a recent breakthrough that should allow us to study the interactions using the new instrument. If the virus could not form this RNA-protein complex, its growth rate would decrease by a factor of 100 to 1000. Learning the atomic-level details of the interaction by NMR should open the door for scientists to design powerful new drugs to fight AIDS."
Cornell University
Linda Nicholson, Ph.D., professor of molecular biology and genetics: "Our projects address how particular 'on/off' switches inside of a cell are regulated. We are currently focused on three such switches, two that are involved in asthma and one in Alzheimer's disease. The 800 MHz spectrometer will provide us with a new 'window' through which to see these molecular switches in action, as they bind to their specific cellular targets. These studies are shedding light on how we might develop novel compounds to prevent or treat these important diseases.
Robert Oswald, Ph.D., professor of pharmacology, College of Veterinary Medicine:
"The new NMR spectrometer will assist in our studies of the structure and function of central nervous system proteins, and the development of drugs targeted to these proteins that may be useful in Alzheimer's disease, epilepsy, and stroke."
Others from Cornell include Frank Schroeder, research group leader, Boyce Thompson Institute.
University of Rochester
Kara Bren, Ph.D., professor of chemistry: "In particular, our research goal is to engineer proteins that, upon absorbing light, produce hydrogen fuel from water. The spectrometer will facilitate our studies of the structures of these engineered proteins."
Doug Turner, Ph.D., professor of chemistry: "Our lab at the University of Rochester will use the 800 MHz NMR spectrometer to determine 3D structures of RNAs from influenza. The structures will provide insight into rational design of potential therapeutics."
Recent ESF News
News Archives
Communications & Marketing
SUNY-ESF
122 Bray Hall
1 Forestry Drive
Syracuse, NY 13210
315-470-6644