SHARE:
Retreat Builds Community for First-Year Students
Ropes courses, field games ease transition for new students

10/2/2013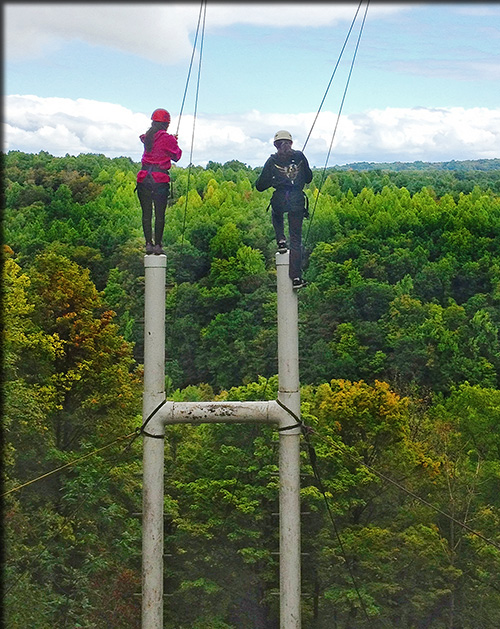 On a couple of Saturday mornings shortly after they arrived at the SUNY College of Environmental Science and Forestry (ESF), first-year students got up at an early 7 a.m. for the ESF First-Year Retreat at Orenda Springs in Marcellus, N.Y. The retreat is part of the First-Year Experience, a series of events designed by a group of faculty who deal directly with new students to help them in their transition to college.
"The biggest outcome is to build student community for first-year students," said Scott Blair. the academic support services coordinator who leads the faculty group, known as the First-Year Learning Team.
Students are divided between two weekends based on which Centennial Hall floor they live on; the day of the retreat, they are separated into smaller groups. The main activities are high- and low-ropes courses, walking tours and field games. This year, water testing was introduced to emphasize the first-year theme of water.
The First-Year Learning Team hopes that students apply their knowledge from the classroom to the natural world and have hands-on experiences that push them to interact with other students and faculty, said Blair. "It's great to have these tangible experiences outside the class," said Blair. "What better way to learn than to be outside actually talking about biology in your boots in the field on a cold, September day?"
Blair acknowledges that there is some uncertainty among students about what the day holds when they load the buses in the morning. Maddi Landau, a first-year student and biotechnology major, said that the mindsets of students transformed throughout the day. "Towards the end, people who never talked before were really close. It was a really different atmosphere," said Landau. "Everyone on [my] floor is so much closer now."
Tom Sullivan, a first-year student and construction management major, was both nervous and excited to start the day off, and his group did the high-ropes course first. Although initially he thought he wanted to remain closer to the ground, he eventually completed the Peregrine, where he was hoisted about 60 feet on ropes before he dropped in a swooping free fall. "Everyone's supportive," said Sullivan. "Eventually it didn't seem as bad as I thought it would be. You realize you're way off the ground, but it's not that scary."
Janine DeBaise, an ESF writing professor and part of the First-Year Learning Team, feels the retreat showcases ESF's sense of community for first-year students. DeBaise enjoys the retreat and the opportunity to meet students in a more informal setting. She took part in the lawn games, both tossing a ball around with students and playing strategy communication games.
DeBaise said that in writing program classes especially, it is important that students feel comfortable sharing their writing and thoughts with each other and understanding that it's okay to make mistakes and to show vulnerability, and she feels the retreat helps develop that setting. "It's so important to grow relationships outside of the classroom," said DeBaise.
Matthew Dates, one of DeBaise's first-year students, said he has already had new experiences with people he hadn't previously known. Dates mentioned a recent example where other first-years casually spoke with him on the ESF Quad, and he contributed their friendliness to the retreat. In fact, at the retreat, Dates had other students commit to helping him collect can tabs, which he collects for the Ronald McDonald House pop-tab collection program, and to his surprise, they've followed through on their promises. "I made friends with people I was only friendly with before," said Dates. "I had chances to just talk to people. I was able to get to know people on a more personal basis."
Nate Pucko has been on the retreat four times now, the first time as a first-year student and the last three as a mentor to first-years. Mentors are Orientation Leaders (OLs) who decide to take a one-credit mentoring course where they are responsible for being available to an assigned floor in Centennial Hall. They coordinate events throughout the year and are contact people for first-year students after orientation. According to Blair, the mentors provide a powerful way to deliver the idea of community to the first-year students. He believes that it can be easier for first-year students to connect with the mentors, who have most recently been through the transitional experience of entering college.
For Pucko, the first-year retreat was the highlight of his freshman year. "I have very good memories from the retreat. That's how I knew I wanted to be an OL and a mentor," said Pucko. "It's a really good experience for everyone to meet when they're a little uncomfortable. It's such a great thing that gets them to make better connections to their peers."
Pucko has the most fun watching the first-years who are uncomfortable at the beginning gain courage throughout the day. "They conquer that fear and do something you wouldn't expect," said Pucko. "They wouldn't be able to do it if everyone wasn't giving them such motivation."
Pucko said that the retreat is a huge factor in strengthening his relationship to his mentees. In the past, he has found that the ones who attend his sponsored activities for the floor are usually the ones he bonded with at the retreat. Upcoming mentor activities include swimming and hiking at Green Lakes State Park, apple picking and a trip to the mall.
Students gain a different appreciation for their professors at the retreat, according to DeBaise, who has noticed that the event helps students grow more comfortable with her and each other. DeBaise said that for a student, seeing a writing professor and a chemistry or biology professor working openly together can encourage the first-year students to branch out from their own focuses.
"I got a better sense of what the professors find amusing and find interesting," said Dates.
The retreat atmosphere allows students to interact with faculty in new ways, said Pucko. "Seeing professors being able to have so much fun at the retreat is really unique. They're out there playing soccer and you see a side of them you couldn't see before," he said.
Emma Meteyer, a Resident Assistant (RA) in Centennial Hall and ESF junior, feels the First-Year Retreat increased her presence in the lives of the first-year students. She has already had more frequent visits to her room since the retreat. "I do keep my door propped for them to come and hang out, but I think the retreat was a different experience."
Landau most enjoyed her experience of talking to Dr. Anne Lombard, dean for student affairs. Landau and her group were able to go on a walking tour with Lombard, and according to Landau, she had only previously seen the dean for a few presentations during Orientation; the retreat experience made the dean more approachable on campus. "She told us why she became a dean and her experiences with students," said Landau.
Both Meteyer's and Sullivan's favorite part of the day was the last activity. Everyone goes into the barn and is given a handful of strings. One is to be used as a necklace; the rest are meant to be tied around other necklaces, each person saying why the string is given, why someone is appreciated or liked. "It's kinda cool to see there are a lot of people who know who I am and respect me," said Sullivan. "It was a time to just go around and tell people what you remembered about them from that day or two weeks leading up to the retreat," said Meteyer.
Although formal assessment of the retreat has not been completed by the First-Year Learning Team, there has been positive feedback so far. Blair shared a story that he feels encompasses the mission of the First-Year Retreat: At the end of the day, a small group of students was tossing around a beach ball, with a goal of consecutively hitting it 100 times. As the other groups finished their activities and came to the field, they all joined in, until everyone at the retreat was passing the same ball. "Here they all are, and they got to 100! Everyone erupted in laughter and cheers."
What started out as a small group of students transformed into one community, said Blair.
- By Alison Gibson ES '15
Recent ESF News
News Archives
Communications & Marketing
SUNY-ESF
122 Bray Hall
1 Forestry Drive
Syracuse, NY 13210
315-470-6644