SHARE:
Fall Fest Celebrates Season at ESF
Student-sponsored event draws 19 clubs

10/3/2013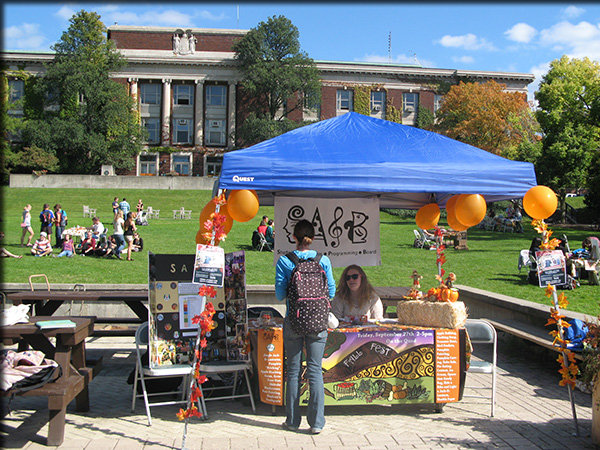 The Quad on the SUNY College of Environmental Science and Forestry (ESF) campus was filled with students and faculty participating in a variety of fall-themed activities Friday, Sept. 27. A total of 19 clubs participated in the Student Activities Programming Board's (SAPB) Fall Fest, said Melanie Pavlidis, president of SAPB and an ESF junior.
Pavlidis had attended fall festivals on Long Island growing up, and she has missed them since she has been away from home. Traditional fall festivals have their roots in harvest festivals and are opportunities for food, music and crafts that promote community building, according to Pavlidis. "Why not bring it here?" she asked. "I always just loved the energy of them and color. I think it's a great way to celebrate the season."
Pavlidis sees SAPB as a committee that uses the ESF student activities fee in a way that benefits and entertains the campus community. Each spring, SAPB members brainstorm and plan the events for the following year, and the idea for Fall Fest was a collaborative effort to have an entertaining, fun event that focused on the season.
"We really thought about how we wanted it to look," said Pavlidis.
She and Mim Powelson, SAPB vice president, partially credit ESF's community for the day's success. "We [at ESF] are small enough that we know each other, and there is an understanding that we're environmentally minded. We're not afraid to be open," said Powelson. "I think that really does speak volumes of our community, to have a fall festival and to have a lot of people come out and enjoy it in different ways."
Students roamed across the Quad, stopping at club tables to talk to friends, professors and even prospective students passing through on tours. Each club put together something different for their tables. Among other activities, there was a pumpkin-carving contest, pumpkin painting, papermaking and a scavenger hunt. There were two pie-eating contests and different recyclable crafts available, such as keychain making using old bike chains.
Pavlidis believes the activities speak to the ESF community, specifically, the Society for Conservation Biology's bird-feeder making, Green Campus Initiative's clothing swap and Alchemists Society's liquid nitrogen ice cream making. "ESF students are notoriously not afraid of getting dirty or doing things that will embarrass them," she said.
SAPB provided a popcorn bar, said Pavlidis, describing it as similar to an ice cream sundae bar but with popcorn, caramel and chocolate. There was also apple cider available, and some clubs sold foods such as cupcakes, caramel apples, and roasted pumpkin seeds as a fundraiser.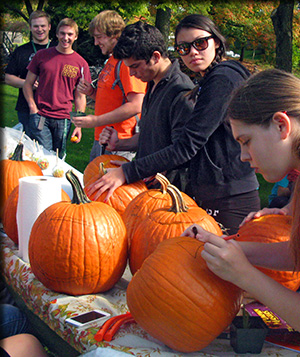 There were five musical groups coordinated by Armando Villa-Ignacio, SAPB's communications officer. SAPB wanted to have as many live musical acts as possible in order to show support for campus entertainment, said Powelson. Every act had an audience of students sitting on the grass in front of the musical setup. The whole event was an opportunity for students to step outside of their academic buildings and see a celebration of fun, free, fall activities.
SAPB's mission was to make it easy and inexpensive for clubs to participate, said Pavlidis. Fall Fest presented an opportunity for all the clubs to collaborate, according to Pavlidis. "It was the clubs' effort that made it happen," she said.
"This was not solely an SAPB effort," she said Powelson. "This was a 19-club effort."
"It was definitely a lot of preplanning," said Powelson. SAPB members offered to buy all supplies for the clubs, so they took a big shopping trip the weekend before the festival.
Fall Fest had the greatest attendance of any SAPB event, with an estimated 200 people, doubling previous events, said Pavlidis. The board worked on getting the word out to campus and placed the event on the ESF Quad specifically to attract attention. Powelson believes word of mouth was the main advertisement. "The fact that we had 19 clubs meant that all of them were talking about it," she said. There was also a large display banner placed in the Gateway Center.
Powelson and Pavlidis took note of the presence of faculty at the festival. "A lot of support at our events is faculty getting involved. That also helps with the ESF community, that we have our teachers willing to enjoy Fall Fest with us," Powelson. SAPB attempts to get ESF faculty involved as much as possible, especially since the club is not academic-related, said Pavlidis.
With the positive feedback that the club members have heard so far, they plan to make Fall Fest an ESF tradition, and already other clubs have begun thinking of next year. "From even the first hour they were already thinking of next time," said Pavlidis, who mentioned how clubs wanted to add more activities to their tables. "We can do it even bigger and better," said Pavlidis. Powelson agreed, "I think we had such a great turnout and such great support from all other clubs that it would be a shame not to do it again."
SAPB's next event will bring in Octavarius, a live comedy group that encourages audience participation and interaction, at 8 p.m. Oct. 11 in Marshall Auditorium.
- By Alison Gibson ES '15
Recent ESF News
News Archives
Communications & Marketing
SUNY-ESF
122 Bray Hall
1 Forestry Drive
Syracuse, NY 13210
315-470-6644