SHARE:
Senior Reunion Tour: 'It's Truly Amazing'
Senior Alumni see changes in Jahn, Baker

10/9/2013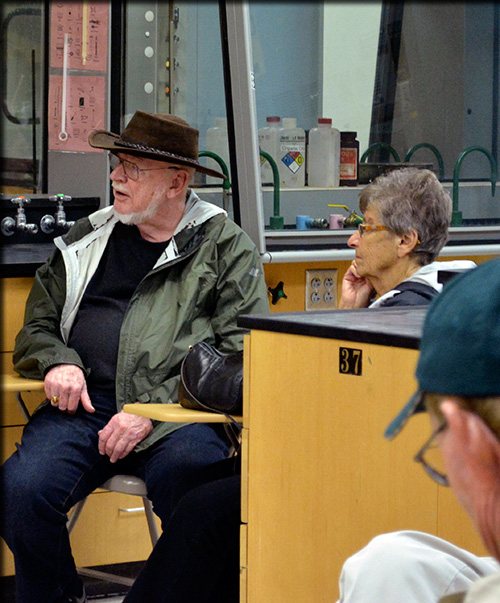 Burton Ford, a 1953 graduate of ESF's pulp and paper program, walked through the refurbished section of Baker Laboratory with wide eyes during the ESF Senior Reunion that was part of the college's annual Alumni and Family Fall BBQ Weekend.
"It's truly amazing," he said, "There is so much equipment per student." When he was a student, he said, sharing equipment was often necessary and there was far less to share.
Ford, of Newark, N.Y., was one of around 30 alumni and 20 guests who participated Oct. 4 in the two-hour tour. Faculty led the group through various rooms in the Jahn and Baker buildings before finishing in the new Gateway Center. The tour included presentations by four professors who each spoke about developments in their respective programs.
The tour of Baker and Jahn was incorporated into the Fall BBQ Weekend in the past three years said Debbie Caviness, director of alumni relations.
"I think the tours were well attended and well received," she said after the event.
She added that while organizing the tours and speakers, she tried to make sure they informed the alumni about what a broad range of academic fields are researching and discovering.
Dr. Arthur Stipanovic, a professor in the Department of Chemistry was the first to speak in 138 Jahn Laboratory.
He used a PowerPoint to illustrate his points about how ESF students are working toward solutions to environmental issues from pollution in Onondaga Lake to global carbon atmospheric levels. He concluded his lecture stressing the passion that ESF chemistry students have for their work.
"The students in our department are taking our legacy and they are focused, almost to the point of obsession, with cleaning things up," he said.
During the question-and-answer period after Stipanovic's presentation, many of the alumni raised their hands to ask questions about new programs and projects, such as willow biomass research, and older programs, particularly local invasive species control.
Ford raised his hand but instead of asking a question he expressed gratitude for feeling like an ESF student again, causing many other alumni to nod in agreement.
"I just want to say it's a pleasure to be in the lecture atmosphere again after 60 years, so I thank you," he said.
Dr. George Kyanka a professor and former department chair, spoke to the group next about how his program, now called the Department of Sustainable Construction Management and Engineering, has changed over the years.
"The focus has shifted," he said.
Kyanka said the educational emphasis of the program that many of the alumni might remember as focused on producing and designing quality wood products has shifted toward sustainable construction. He showed the group the Wood Products Engineering Laboratory that was included in Baker Laboratory's $37 million rehabilitation that began in the 1990s.
John Moore of North Syracuse, a 1958 graduate of the wood products and engineering program, said the updates to Baker made the building hardly recognizable.
Paul Szemkow, an instructional support specialist in the Department of Environmental Resources Engineering, also spoke to the group about developments in his program.
The tour ended with a buffet lunch in the newly opened Gateway Building.
"I had no idea the Gateway building was so big - I thought it was just a hallway," said 1963 graduate Fred Robinson, who works as a consultant in a suburb outside Cleveland, Ohio.
Dr. David Newman, chair of the Department of Forest and Natural Resources Management, presented information about his department before the alumni dug into the lunch buffet.
Newman said that although ESF, like other schools around the country, is seeing a decline in the number of students enrolling in forestry-specific programs, the department is strengthening its management focus with the new major in Sustainable Energy Management.
George Treier, a member of the class of 1958 who came back to the alumni tour from Pittsford, N.Y., said after Newman's presentation that he was impressed by how much nicer all of the facilities are at ESF now than when he was a pulp and paper student.
"The Gateway building is a marvel," he said.
Treier also said that he thinks the structural changes to ESF reflect how the college has widened its educational focus from a forestry school, as it was when he was a student, to an institution that deals with environmental topics on a much broader scale.
"I think the direction is different and very much in tune with society in general," he said, "I think it's a great direction to go."
- By Shannon Hazlitt SU '14
Recent ESF News
News Archives
Communications & Marketing
SUNY-ESF
122 Bray Hall
1 Forestry Drive
Syracuse, NY 13210
315-470-6644