SHARE:
Fall BBQ Weekend Draws Family, Alumni to Campus
750 attend lunch in Gateway Center

10/9/2013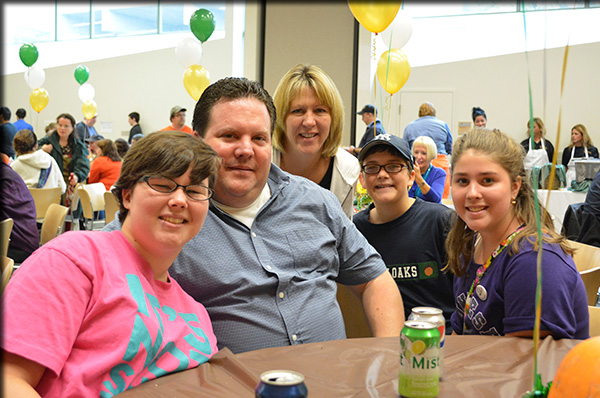 Although the second seating for lunch during the busiest day of the ESF Alumni and Family Fall BBQ Weekend started at 12:15 p.m., a line extended almost out the door of the expansive event facility in the Gateway Center by 12:20 p.m.
Debbie Caviness, ESF's director of alumni relations, said that with almost 750 alumni, students, and families on campus for the barbeque, two seating times for the event were necessary to make sure there was enough room for everybody.
The barbeque lunch took place Saturday, Oct. 5, in the recently opened Gateway Center conference room. which was was transformed into a sea of green and white balloons as families gathered at circular tables decorated with wildflowers and small buckets of fresh local apples.
Georgia Cranwell of East Aurora, N.Y., did not just appreciate getting the chance to spend time with her daughter, freshman environmental biology major Joanna Cranwell, at the barbeque, but also the opportunity to meet her daughter's friends, she said. Cranwell also stressed that that the staff at the event could not have been more helpful.
"The organization beforehand really made it," she said, "Every direction we went there was someone there to help or direct you if you needed it­­."
Guests could fill their plates with cucumber tomato salad, baked beans, salt potatoes, watermelon and chocolate chip cookies. Thick sirloin burgers, vegetarian burgers, hot dogs, and roasted chicken were among other options.
Claude Houseman of Chittenango N.Y., whose daughter Ali is a sophomore bioprocessing engineer, said that he was particularly impressed by the food at the event.
Just a few feet from where Houseman and his family sat, a member of ESF's student sustainability group, Green Campus Initiative (GCI), was helping attendees compost their food scraps. As in years past, GCI took charge of making sure the event generated as little waste as possible.
"They are so sweet," said Joanne Wilson of Carnegie Catering of Liverpool, which supplied the food. "We probably throw out about 90 percent less with their help."
Two student groups also provided entertainment.
First to perform was the ukulele group Uke-aryotes, which draws its name from the scientific term for an organism whose cell walls contain a nucleus and other structures contained within membranes. They provided a soft strumming background to the rumble of chatter throughout the room.
ESF's a capella group Ecotones sang many classic songs throughout the second half of the event, including Jessie's Girl, Carry On, and Somebody to Love.
"It was really nice performing for all the parents," said Eric Stevens, a member of Ecotones and a junior chemistry major, "We hoped we were giving them songs that they know."
The Ecotone's performance didn't just appeal to parents. Freshman environmental science major Emily Greenfield said she loved both music groups and the fact that ESF students were so involved in the entertainment. But her favorite part of the event was meeting her classmate's families and ESF alumni.
"I think what I enjoyed most was listening to stories about when they went to school here," she said, adding that she would be sure to bring her family back next year.
- By Shannon Hazlitt SU '14
Recent ESF News
News Archives
Communications & Marketing
SUNY-ESF
122 Bray Hall
1 Forestry Drive
Syracuse, NY 13210
315-470-6644