SHARE:
Begley Tells ESF, 'You're Not Just Teaching It'
Feinstone Environmental Awards Draw 200 to Campus

10/18/2013
The video originally included in this story is no longer available via this page. Contact web@esf.edu if more information is required.
Copyright © All Rights Reserved by copyright holder
More than 200 people gathered in the Gateway Center Oct. 17 to honor Feinstone Environmental Award winner Larry Leatherman, president of the Milton J. Rubentstein Museum of Science and Technology (MOST), and to get some tips about living green from actor and environmentalist Ed Begley Jr.
Leatherman was honored in recognition of his leadership at the MOST and in the advancement of science education in Central New York. The dinner's theme was the importance of STEM education - science, technology, engineering, math - and the need to promote an interest in those critical subjects early in students' academic careers.
Begley, an Emmy-nominated actor and director perhaps best known for his role as Dr. Victor Ehrlich on the long-running television series St. Elsewhere, also co-starred in Woody Allen's Whatever Works and a number of Christopher Guest films including A Mighty Wind and Best in Show.
During his keynote address, he said his interest in improving the environment began with the first Earth Day in 1970, when the smog in Los Angeles spurred him to take action. He began with small steps - riding a bike instead of driving, eating lower on the food chain and composting - that helped him save money. He moved to bigger investments, such as the purchase of a solar hot water system, a wind turbine and a photovoltaic array. Now he is constructing a LEED Platinum home and goes beyond carbon neutrality to the point where he is actually carbon negative, he said.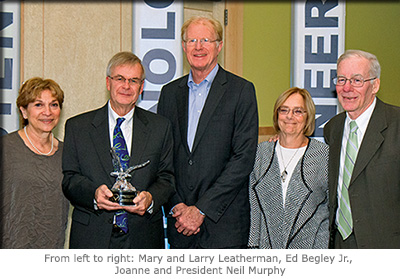 "Everything I've done that has been good for the environment has also been good for my bottom line," he said.
He urged the audience to have home energy audits to make their homes more sustainable and save themselves some money.
Begley also praised ESF and President Cornelius B. Murphy, Jr., for the College's work, particularly the environmentally friendly features that are part of the Gateway Center. But the thing that impressed him most, he said, was what he saw when he arrived at ESF earlier in the day: "I've never seen so many bicycles on a campus in my life."
"You're not just teaching it in the classroom," he said. "To do it in these buildings, that's what really great. You're showing people what works here at this wonderful college. It's just extraordinary."
Recent ESF News
News Archives
Communications & Marketing
SUNY-ESF
122 Bray Hall
1 Forestry Drive
Syracuse, NY 13210
315-470-6644