SHARE:
Mighty Oaks Women No. 4 in National Soccer Tournament
Undefeated seasons send team to championship

10/25/2013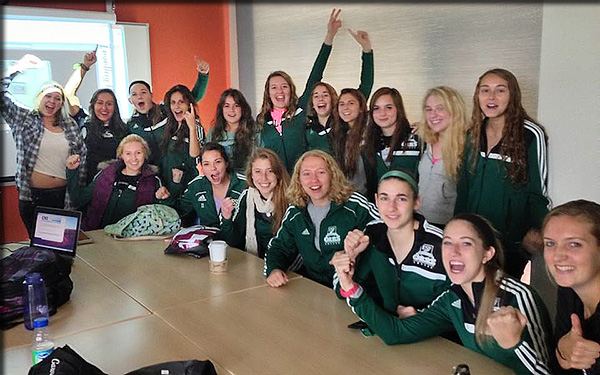 The Mighty Oaks women's soccer team is a No. 4 seed in this year's United States Collegiate Athletic Association Soccer National Championships. The team's first game will be Oct. 31 against the only other SUNY school in the field, fifth-seeded Alfred State.
This is the first time the Mighty Oaks women have been invited to the tournament. They finished their season with a 10-0-1 record.
An unprecedented six teams from last year's eight-team field will head to Charleston, W. Va., for the competition, which begins Oct. 30. The championship game will be Nov. 2.
The 2012 national champion, Daemen College, and the 2010 and 2011 champion, University of Maine-Fort Kent, will lead a group of returners that also includes Paul Smith's College, Albany College of Pharmacy, Penn College, and University of Maine-Machias.
The No. 1 seed in the tournament is the Lady Bengals from Fort Kent, who were last year's runner-up. They'll take on the winner of Wednesday's matchup of No. 8 Penn College and No. 9 University of Maine-Machias, two teams that met in the consolation bracket during last year's tournament resulting in a narrow 3-2 win by the Lady Clippers of Machias.
The defending national champions, the Daemen College Wildcats, will enter as the No. 2 seed. Their quest to repeat will start against the winner of the game between No. 7 Paul Smith's College and the host institution, No. 10 West Virginia University Tech. Paul Smith's College narrowly defeated University of Maine-Machias to take home the Yankee Small College Conference crown in a decision that involved two overtime periods and 9 penalty kicks over the weekend.
The third-seeded Florida College Lady Falcons will return to the championship after a two-year absence to take on the 2012 semi-finalist, No. 6 Albany College of Pharmacy and Health Sciences. Florida College enters the 2013 tournament with an 8-5 record following a tough regular season schedule. Meanwhile, Albany will return each of its 2012 USCAA All-Americans in an effort to build on last year's tournament performance.
The last first-round matchup in the women's bracket will feature No. 4 ESF taking on No. 5 Alfred State. ESF is in the midst of a nearly flawless season in its program's fourth year. The Alfred State Lady Pioneers, like the Mighty Oaks, will make their inaugural appearance at the USCAA Soccer National Championships.
Tournament play begins 11 a.m. Oct. 30. The championship games will be 1 p.m. Saturday, Nov. 2.
ESF's men's soccer team finished the season with a record of 7-6-1.
Recent ESF News
News Archives
Communications & Marketing
SUNY-ESF
122 Bray Hall
1 Forestry Drive
Syracuse, NY 13210
315-470-6644