SHARE:
Mighty Oaks Women's Soccer Team Falls to Alfred State
Team ends season with 10-3-1 record

11/1/2013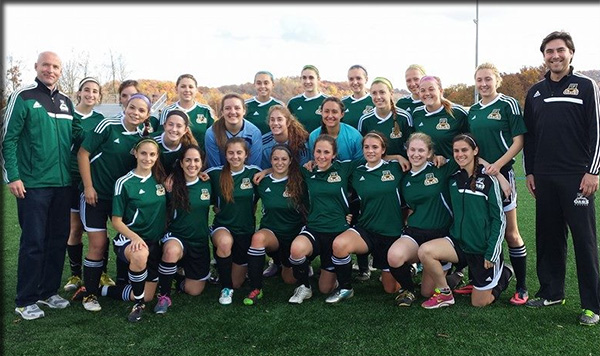 The Mighty Oaks women's soccer team lost to SUNY Alfred State in the United States Collegiate Athletic Association Soccer National Championships Thursday.
The Oaks dropped two early goals and a penalty kick goal before getting on the board with a header goal by 2013 honorable mention All American Bridget Cuddihy, junior, environmental science.
The Oaks outshot fifth-seeded Alfred 17 to 14.
ESF's Academic All American were honored prior to the match, Ashley Miller, junior, environmental resources engineering (ERE); Kiana Morse, sophomore, ERE; Jessica Vacarre, sophomore, environmental science; and Megan Kuczka, senior, environmental science.
The team fell to Penn College in double overtime Friday in the tournament's consolation round, losing 2-1. The Oaks outshot the Wildcats 16 to 7 but were unable to finish a game winner.
Penn got on the board first on a breakaway finish, ESF responded quickly with a blazing outside shot goal by ESF Junior defender Megan Beckwith, aquatic and fisheries science. Beckwith's first collegiate goal came at an opportune time pushing the game into overtime. Penn came through on the second goal in overtime with just three minutes prior to penalty kicks.
The Oaks closed the season 10-3-1, with the most wins in the programs history and its first appearance at nationals.
"ESF had a nearly flawless season in its program's fourth year," said Coach Dan Ramin.
Recent ESF News
News Archives
Communications & Marketing
SUNY-ESF
122 Bray Hall
1 Forestry Drive
Syracuse, NY 13210
315-470-6644