SHARE:
ESF Professor Finalist for Humanitarian Award
Dr. Ted Endreny recognized for dedication to humanitarian engineering

11/8/2013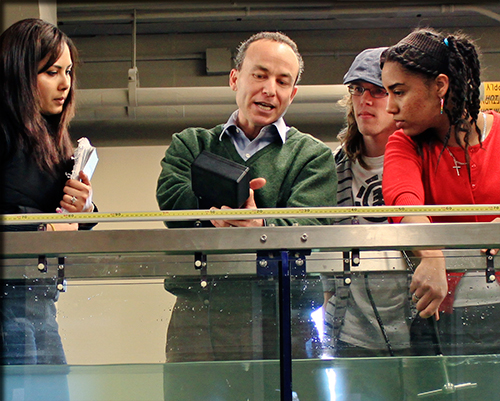 While riding a mule to a Honduran village, Dr. Ted Endreny discovered his calling to humanitarian engineering.
"I was on the back of a mule in Honduras going into a village that was getting a water supply system," he said. "I saw how motivated these people were and realized the best way to conserve our resources is to show people how it connects directly to water supply."
Since that day in 1991, Endreny has been focused on assisting efforts to bring potable water to isolated areas. For these continuing efforts, he was named a finalist for the Global Humanitarian Engineering Award.
Endreny, chair of ESF's Department of Environmental Resources Engineering, has been a Peace Corps volunteer and Fulbright Scholar. His development engineering courses have lead many students to pursue careers in international development and innovative design. Besides teaching, Endreny conducts pioneering work focusing on water supply in Honduras.
As the advisor to ESF's chapter of Engineers without Borders, Endreny is fostering the next generation of humanitarian engineers. The EWB members will be closing out a multi-year project in Buena Vista, Honduras, this year that will provide potable water for the village.
His motivation to better the world, and encouragement of students to keep an open mind, has made him a favorite amongst the students on campus. He was nominated for the award by Thomas "TJ" Decker, junior ERE major, and a member of the Students for a Sustainable Society club.
Endreny has dedicated over 23 years of his life to humanitarian engineering. This spring he will be teaching a course in humanitarian engineering for development workers. The course is open to both engineering and non-engineering students.
The Global Humanitarian Engineering Award, supported by IEEE, the Institute of Electrical and Electronics Engineers, was presented at the 2013 Global Humanitarian Technology Conference in Silicon Valley, Calif. It was developed to fill a global gap in celebrating the valuable contribution that engineers make towards improving the lives of those less fortunate. In addition, they serve to recognize outstanding achievement, provide role models, and demonstrate less popularly known roles of engineering in society. IEEE's membership includes computer scientists, software developers, information technology professionals, physicists, medical doctors, in addition to electrical and electronics engineers.
Endreny was one of three finalists for the award, which was won by Dr. Ashifi Gogo for his work to battle global counterfeit medication.
Recent ESF News
News Archives
Communications & Marketing
SUNY-ESF
122 Bray Hall
1 Forestry Drive
Syracuse, NY 13210
315-470-6644