SHARE:
ESF Landscape Architecture Students Receive National Award
Project aims to improve Hudson River Estuary

11/21/2013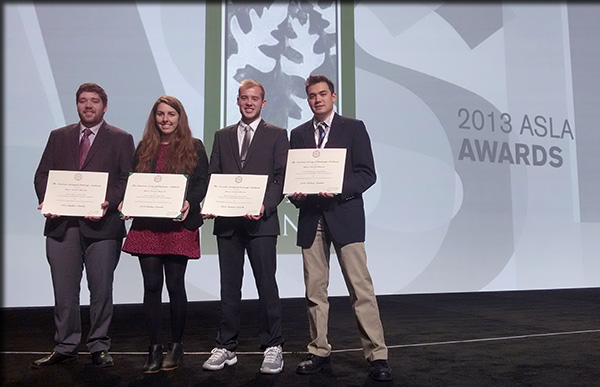 Students at the SUNY College of Environmental Science and Forestry (ESF) received a national honor award from the American Society of Landscape Architects (ASLA).
Seniors Samuel Kolb, Gena Morgis and Curtis McMahon and junior Michael Frederick were honored for their project, Groundwork: Primary Productivity in the Hudson River Estuary. They received an Honor Award from the professional organization. Jamie Vanucci, Dan Reeder and Susan Dieterlen served as their faculty advisors.
The Groundwork project proposes to lay the foundation for design developments in the Hudson River Estuary that acknowledge a new ecology where once disregarded elements of the estuary become the solution for problems in the area and establish a cohesive environment between human populations and estuary ecologies.
The awards honor the top public places, residential designs, campuses, parks and urban planning projects from across the United States and around the world.
Recent ESF News
News Archives
Communications & Marketing
SUNY-ESF
122 Bray Hall
1 Forestry Drive
Syracuse, NY 13210
315-470-6644