SHARE:
Murphy Gathers Accolades, Honors as Tenure Draws to End
Outgoing president to become SUNY Senior Fellow for Environmental and Sustainable Systems

12/6/2013
SUNY-ESF President Cornelius B. Murphy, Jr., who will step down from office at the end of the year, was honored by 400 members of the extended ESF community at a campus event Dec. 5.
The gathering at the college's new Gateway Center included comments from Lt. Gov. Robert J. Duffy, who presented a proclamation from Gov. Andrew Cuomo in honor of Murphy's tenure. "He has really put this school on the map," Duffy said. "He is a great man and a great leader and he will be missed."
William F. Howard, senior vice chancellor, general counsel and secretary at SUNY, bestowed upon Murphy the title of Senior Fellow for Environmental and Sustainable Systems for the university system.
Department of Environmental Conservation (DEC) Commissioner Joe Martens, who earned his master's degree from ESF in 1981, said his department is establishing an annual award, called Neil's Award, to honor an employee who emulates Murphy's efforts to protect natural resources while displaying a great intellect and gracious manner.
The name of the DEC award reflects the new name of the gathering space in the Gateway Center. The open area in the concourse was officially dubbed Neil's Place during the tribute event.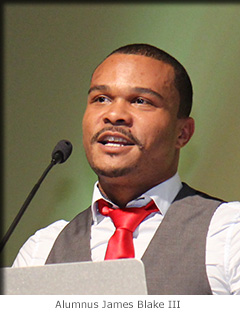 The lineup of speakers also included PJ Connell, the president of the Undergraduate Student Association; alumnus James Blake III '04, now employed as an engineer by O'Brien & Gere, where Murphy was CEO before joining ESF; and Distinguished Teaching Professor Emeritus and Kennedy Chair George Curry. ESF Board of Trustees Chair Vita DeMarchi served as emcee.
Connell said Murphy is the subject of a number of urban legends among the student body, including the likelihood that Murphy is the alter ego of superhero Captain Planet. "After all," Connell said, "we've never actually seen you and Captain Planet in the same place."
"On behalf of the students, the best thing to say is, 'Thank you. You'll never know how much you've done,'" Connell said.
Murphy credited ESF students with defining both the college and the role he played in its development over the last 13 years.
"It has been an honor to be the president of the State University of New York College of Environmental Science and Forestry," Murphy said. "I'm a better person today because of this extraordinary experience."
The college's most important success, he said, beyond the growth in visibility, facilities and funding, has been the education of "dedicated and passionate students."
"Our students define the institution and they help to define me," he said.
Murphy took office at ESF in the spring of 2000. He plans to take the next year off and return to the ESF campus in 2015 to teach. Dr. Quentin Wheeler takes over as president of ESF in 2014.
Recent ESF News
News Archives
Communications & Marketing
SUNY-ESF
122 Bray Hall
1 Forestry Drive
Syracuse, NY 13210
315-470-6644