SHARE:
Powell Named Forest Biotechnologist of the Year
Recognized for promoting science and stewardship

12/10/2013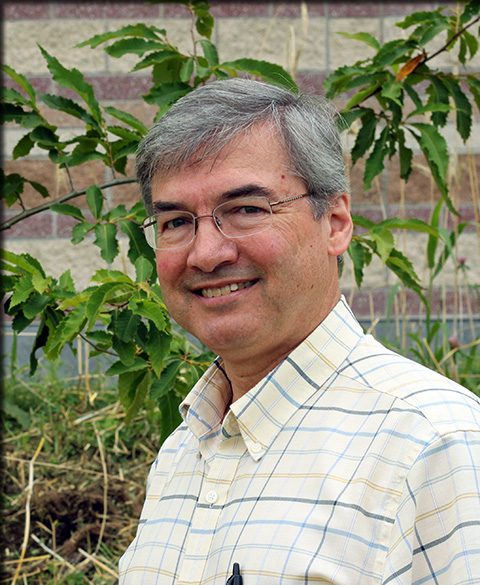 Dr. William A. Powell, a professor and director of the Council on Biotechnology in Forestry at ESF, has been named 2013 Forest Biotechnologist of the Year by the Institute of Forest Biotechnology (IFB).
His peers within the Forest Biotechnology Partnership, an international group of forestry and biotechnology professionals, selected Powell as the fifth scientist to win this award, which recognizes the forest biotechnologist who best exemplifies responsible uses of forest biotechnology and actively promotes science, dialogue and stewardship through his or her work.
According to his peers, Powell was nominated because of his pioneering work, leadership and outreach in the use of biotechnology to restore one of the most iconic forest trees, the American chestnut.
Lori Knowles, chair of the board at IFB, said, "Bill's willingness to communicate about his work, engage with the public, and collaborate with colleagues from other disciplines is both commendable and visionary. Bill embodies the principles of science, dialogue and stewardship on which the IFB is built, and thus he is an ideal recipient of this year's Forest Biotechnologist of the Year award."
Powell has worked on this topic during and since his Ph.D. research, contributing a great deal of basic science as well as technology development. The basic science has included insights into mechanisms of pathogenesis, including studying the roles of virus-associates of the chestnut fungus, designing anti-microbial peptides and identifying pathogen resistance-enhancing genes. Technology advances have included helping development of new transformation methods, rapid screening approaches for assessing resistance, and means to accelerate flowering to advance research and breeding. In addition to American chestnut, Powell has advanced research on American elm and hybrid poplar. His work has been widely cited, with more than 200 citations from 2007 to 2011. Earlier this year, Powell presented at the National Geographic sponsored TEDxDeextinction conference.
Steve Strauss, a professor with the Department of Forest Ecosystems and Society at Oregon State University, said, "Bill's program has made several major advances in technology to produce and accelerate the development of blight-resistant chestnut. He also has worked hard to inform the public about his work and its rationale. He exemplifies what this award is intended to recognize."
As director of the Council for Forest Biotechnology at ESF, Powell uses this platform to actively promote outreach and transparency. He has created field days, engaged hundreds of students from high school to graduate levels in fieldwork or through undergraduate teaching, planted transgenic trees in public demonstration plots, such as the New York Botanical Garden, and takes steps to involve civic leaders.
"Like all the nominees, Bill has accomplished a lot over his career. I think Bill's work with the Forest Health Initiative in finding native genes resistant to the chestnut blight, and his ability to make those complex techniques easy to understand for the general public are what set him apart this year," said Adam Costanza, president of the Institute of Forest Biotechnology.
Powell earned his doctorate in biology from Utah State University and his bachelor's degree in biology from Salisbury State University of Maryland. During his tenure at ESF, he has published 40 peer-reviewed articles and seven book chapters.
Recent ESF News
News Archives
Communications & Marketing
SUNY-ESF
122 Bray Hall
1 Forestry Drive
Syracuse, NY 13210
315-470-6644