SHARE:
SUNY-ESF Listed as a Top Value by U.S. News & World Report
College ranks 17th in "Great Schools, Great Prices" category

8/20/2009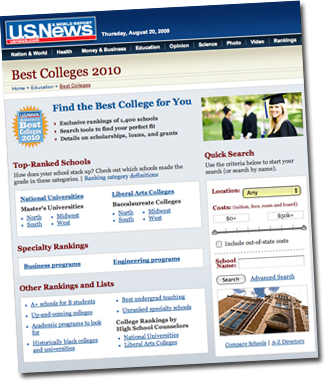 The SUNY College of Environmental Science and Forestry (ESF) has, for the ninth year in a row, earned a place among the top universities in America, as ranked by U.S. News & World Report.
In the "Great Schools, Great Prices" category of the 2010 edition of America's Best Colleges, ESF is ranked 17th. The formula used in that category relates a school's academic quality to the net cost of attendance for a student who receives the average level of need-based financial aid. The magazine states: "The higher the quality of the program and the lower the cost, the better the deal.
In this category, ESF ranks between Vanderbilt and Johns Hopkins universities. ESF is the only SUNY institution on the list. Only one public school, the University of North Carolina at Chapel Hill, ranks higher than ESF.
ESF is listed at 37 among the top public national universities, again tied with SUNY Binghamton.
In the spring of 2007, U.S. News picked SUNY-ESF as one of four outstanding science-oriented colleges in the Northeast that the magazine would feature in a special video for prospective students. The other featured schools were MIT, RPI and Clarkson University. View the U.S. News "Science in the Northeast" video to see why SUNY-ESF was ranked among these top schools.
In the Best National Universities category, which includes both public and private national universities, ESF is ranked at 80, tied with SUNY Binghamton and Northeastern University. ESF and Binghamton are the highest-ranked SUNY institutions on the list. The national universities group consists of the 262 universities that offer a wide range of undergraduate majors along with master's and doctoral degrees.
"As an institution, we are extraordinarily pleased at the recognition," said ESF President Cornelius B. Murphy, Jr. "The rankings are a validation of our values, our philosophy toward education and the wonderful students and faculty that we have."
Recent ESF News
News Archives
Communications & Marketing
SUNY-ESF
122 Bray Hall
1 Forestry Drive
Syracuse, NY 13210
315-470-6644