SHARE:
'Cow Power' Butter Sculpture Destined for ESF Fuel Tanks
State Fair attraction will be processed into biodiesel

8/26/2009
The video originally included in this story is no longer available via this page. Contact web@esf.edu if more information is required.
Copyright © All Rights Reserved by copyright holder
SUNY-ESF scientists and students will once again turn the New York State Fair butter sculpture into biodiesel at fair's end.
This year's sculpture "Cow Power," embraces the biodiesel project as it celebrates a world in the not-so-distant future where cows not only produce "nature's most perfect food" but also the fuel to take it to market, according to Elizabeth Meyer of the American Dairy Association and Dairy Council, Inc.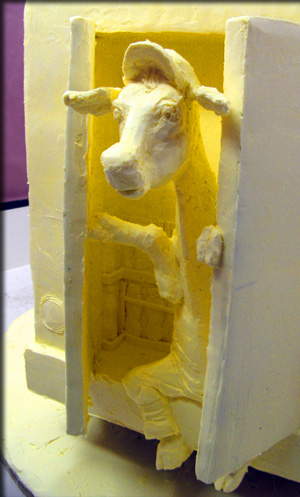 In 2008, the first year the butter sculpture was turned into biodiesel by ESF scientists, the sculpture produced 100 gallons of fuel that was used to power ESF's vehicle fleet. Dr. Christopher Nomura of ESF's Chemistry Department expects this year's sculpture to produce approximately the same amount. Ecological engineering graduate student Jessica Bohn is the biodiesel project manager.
Recent ESF News
News Archives
Communications & Marketing
SUNY-ESF
122 Bray Hall
1 Forestry Drive
Syracuse, NY 13210
315-470-6644