SHARE:
Energy, Construction Experts to Speak at Green Building Conference
Benson, Ingraffea to present latest technology, research

3/6/2014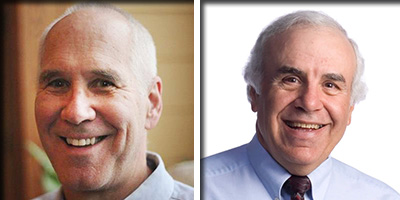 The 12th Annual Green Building Conference sponsored by the SUNY College of Environmental Science and Forestry (ESF) will feature presentations by experts in the fields of renewable energy and home construction.
Tedd Benson, a designer and builder of energy-efficient homes, will speak about high-performance homes. Dr. Anthony Ingraffea, professor in the civil and environmental engineering department at Cornell University, will present the feasibility of transitioning to all renewable energy sources in New York state.
Benson is the founder of Bensonwood, an organization that designs and builds energy-efficient timberframe and hybrid high-performance homes and commercial buildings across the United States and Canada. His buildings include a LEED Platinum, net-zero home in Maine and a passive home in Vermont that does not require a furnace.
Since the founding of Bensonwood in 1974, the company has built more than 700 timberframe homes and commercial structures. They focus on implementing innovative ideas toward better building strategies for high-performance and sustainable structures. Benson has authored four books on timberframing and has been featured on Good Morning America, the Today Show, and This Old House in addition to publishing articles in The Atlantic, The New York Times, The Washington Post and Builder Magazine.
Ingraffea is part of The Solutions Project, a collaboration of scientists, business leaders and cultural influencers working to accelerate the transition to a renewable energy sources-based future.
Ingraffea is the Dwight C. Baum Professor of Civil and Environmental Engineering and a Weiss Presidential Teaching Fellow at Cornell University, which he joined in 1977. He specializes in research and teaching about complex fracture processes, especially those associated with production of hydrocarbons.
TIME Magazine named him one of its "People Who Mattered" in 2011, and he became the first president of Physicians, Scientists, and Engineers for Healthy Energy, Inc., that same year.
The Green Building Conference takes place March 27 and 28 at the Oncenter in Syracuse. The conference serves as a forum for green building research and development, best practices, and discussions on green building science and operation and maintenance, as well as an opportunity to network with other green building experts, professionals and researchers.
The conference is hosted by ESF in partnership with the U.S. Green Building Council New York Upstate Chapter and the Syracuse Center of Excellence in Environmental and Energy Systems.
For more information and to register for the conference, visit the conference website.
Recent ESF News
News Archives
Communications & Marketing
SUNY-ESF
122 Bray Hall
1 Forestry Drive
Syracuse, NY 13210
315-470-6644