SHARE:
SUNY Honors ESF Student Excellence
Two students receive Chancellorís Awards

3/24/2014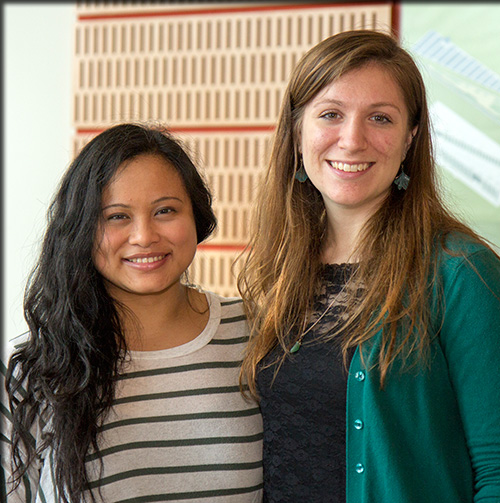 Two students from the SUNY College of Environmental Science and Forestry (ESF) were honored with the Chancellor's Award for Student Excellence.
Beverly Agtuca of Holbrook, N.Y., and Lauren Alteio of Montgomery, N.Y., received the honor, which includes framed certificates and medallions that can be worn at commencement.
Chancellor's Award honorees excel both in academic achievement and in at least one of the following areas: leadership, athletics, community service, creative and performing arts or career achievement. The students will be honored at a reception hosted by SUNY Chancellor Nancy Zimpher this spring.
Agtuca is a senior biotechnology major. She is a member of the college's Honors Program and Alpha Xi Sigma honor society. Agtuca was an intern at the Brookhaven National Laboratory and an undergraduate research assistant for the Connecticut Agricultural Experiment Station. She has authored and co-authored publications. She is a member of service fraternity Alpha Phi Omega. Agtuca is involved in a number of volunteer projects including the Relay for Life, Rosamond Gifford Zoo, local food drives and community beautification projects. She was named to the Dean's List multiple semesters.
Alteio is a senior environmental biology major. She is the recipient of a highly competitive internship at Harvard Forest under the guidance of distinguished scientist Dr. Jerry Melillo. Alteio participates in the ESF Honors Program and was awarded an Honors Program Scholarship to complete her senior thesis on the effects of earthworm invasions on microbial enzymatic decomposition. She received the Silverborg Memorial Award for excellence in mycology, and has been a teaching assistant for doctors Gregory McGee and Melissa Fierke.
She is involved with several student organizations, including Green Campus Initiative as special events and design chair, Emerging Leaders Program, the ESF cross-country team and the Syracuse University Oratorio Society. Alteio has also been involved in the Syracuse community by planting street trees, planning a stream cleanup for Butternut Creek and volunteering at the CNY SPCA.
"Students honored with the Chancellor's Award for Excellence, and those recognized by Phi Theta Kappa, truly embody the power of SUNY," said Chancellor Zimpher. "As proven leaders and role models, scholar athletes, creative artists, and civic volunteers, each student is recognized not just for academic achievement, but also for the profound impact they have on college campuses and local communities across New York State. Congratulations to the ESF students being recognized today."
Recent ESF News
News Archives
Communications & Marketing
SUNY ESF
122 Bray Hall
1 Forestry Drive
Syracuse, NY 13210
Communications@esf.edu