SHARE:
Test Run For New Fueling Station
New biodiesel fueling station nearly ready for operation

9/16/2009
The video originally included in this story is no longer available via this page. Contact web@esf.edu if more information is required.
Copyright © All Rights Reserved by copyright holder
Two new 3,000 gallon above-ground fuel storage tanks, each with its own dispensing system, have been installed on the campus of the SUNY College of Environmental Science and Forestry (SUNY-ESF) to supply the college's growing fleet of alternative fuel vehicles.
ESF President Cornelius Murphy, Jr. and Assemblyman William B. Magnarelli (120th Assembly District) today conducted one of the final tests of the system before it is put into full operation. Assemblyman Magnarelli was invited to fill the tank of the ESF 25-passenger bus that's powered by biodiesel fuel made in a campus facility.
"Assemblyman Magnarelli understands, in order to make the switch to alternative fuels that come from renewable resources like biodiesel and ethanol, we must develop a distribution system. We thank him for his support of our efforts to demonstrate how it can be done successfully," said President Murphy.
"The SUNY College of Environmental Science and Forestry is making great advances in environmentally friendly alternative energy sources," said Assemblyman Magnarelli. "By bringing such energy alternatives to campus vehicles, SUNY-ESF is showing Central New York residents the opportunities available to save the environment through entrepreneurial and scientific advancements."
Some $500,000 in total grants from Assemblyman Magnarelli helped with the purchase and installation of the dispensing stations as well as the purchase of two biodiesel-powered 25-passenger buses.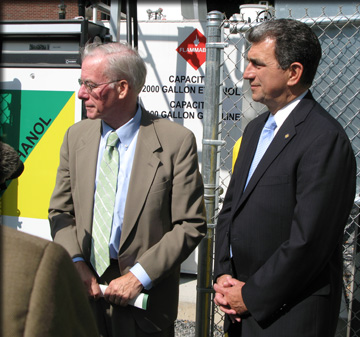 Each storage tank is divided into compartments. One stores ethanol and gasoline with a dispenser to produce the E-85 mixture (85 percent ethanol and 15 percent gasoline) needed for flex-fuel vehicles. The other tank stores biofuel and diesel with a dispenser to produce the correct mixture (B-20) needed for various vehicles.
More than 34 percent of the ESF fleet of vehicles runs on some form of alternative fuel, including flex-fuel, biodiesel, gas/electric hybrids, electric vehicles, compressed natural gas, and propane.
ESF students make much of the biofuel for biodiesel from used cooking oil from nearby college dining halls. Ethanol produced from the ESF wood-to-ethanol process will also be used to supply gasoline flex-fuel vehicles.
Recent ESF News
News Archives
Communications & Marketing
SUNY-ESF
122 Bray Hall
1 Forestry Drive
Syracuse, NY 13210
315-470-6644