SHARE:
ESF Students Park at Downtown Campsites, Beach
Design skills help call attention to need for green space

9/18/2009
The video originally included in this story is no longer available via this page. Contact web@esf.edu if more information is required.
Copyright © All Rights Reserved by copyright holder
Adam Olinski looked at the tent, the logs stacked for a fire, the grill and the trees, and asked, "What else would you rather be doing?"
Olinski and a group of his ESF landscape architecture classmates figured they had it made, even as 9 a.m. traffic maneuvered past them on Jefferson Street in downtown Syracuse.
The foursome, along with 38 of their fourth-year classmates, were participating in international PARK(ing) Day, an effort to promote creativity and the importance of green space. Throughout Syracuse, groups of students reserved on-street parking spaces for 12 hours and designed scenes that they hoped would call attention to the issue.
Olinski worked with Jesse Marco, Patrick Delaney, Andrew Crapanzano and Evan Geffell to turn their space into a campsite.
"We have all the amenities," Marco said.
"…like marshmallows, a grill, plants, a tent," Delaney added.
On the other side of downtown Syracuse, Kyle Eddy, Samuel Rogers, Todd Lewis and Joseph Cavender were raking sand around lawn chairs and using blue spray paint to install a beach at East Onondaga and Jefferson streets.
"We pave so much of our urban spaces for parking," Rogers said. "This is kind of an extreme statement to raise awareness and get people involved."
Robin E. Hoffman, an associate professor in ESF's Department of Landscape Architecture, said the students are all enrolled in the senior design studio.
"We saw this an opportunity for the students to think long and hard about the amount of space that is set aside in our cities for parking," said Robin E. Hoffman, "They needed to respond to the space itself and find a way to make a comment on it that would communicate the issue to everyone who sees it."
Students from Syracuse University also participated in the event.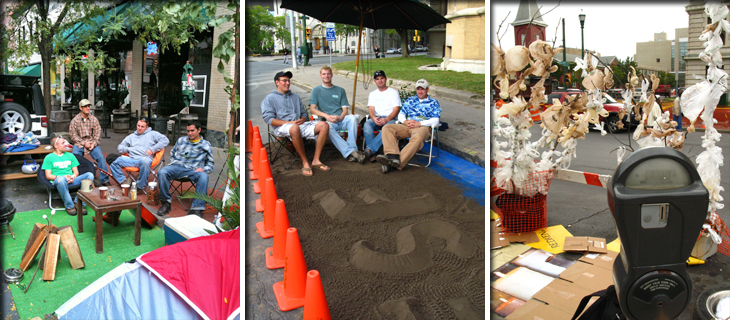 Recent ESF News
News Archives
Communications & Marketing
SUNY-ESF
122 Bray Hall
1 Forestry Drive
Syracuse, NY 13210
315-470-6644