SHARE:
Messages Cap Off Graduation Gear
Mortarboards get personal during ESF Convocation

5/12/2014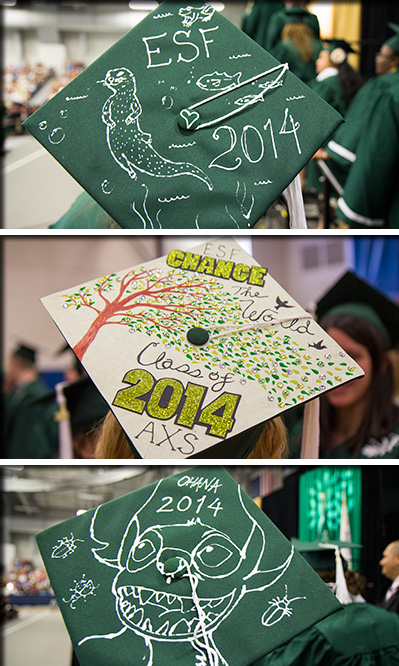 As she lined up for ESF Convocation with hundreds of celebrating classmates, Emily Adams' mortarboard carried a familiar message: "Improve Your World."
She had decorated the cap with ESF's recruitment slogan and added maps of the United States and Africa to signify her next big step: service as a Peace Corps volunteer in Senegal, where she will work on agroforestry.
"I've wanted to be in the Peace Corps since eighth grade," she said as she lined up to be honored for earning her B.S. in environmental studies (ES). "I'm really excited about it."
Adams was not the only ESF student who put a personal touch on the classic green graduation accessory. When graduates gathered with friends and family for Convocation at SRC Arena May 10, the day before they joined a larger crowd at the Carrier Dome for the joint Commencement with Syracuse University, dozens of ESF students made their caps their own with personal touches.
Adams' ES classmate, Cortney Frank, wore a mortarboard that featured a sparkly tree and the message, "Change the world."
"I feel like that's our thing here," she said. "Change the world, leave it better than you found it. There's something different about going to school here."
Frank knows that difference firsthand. She transferred to ESF after a year at a college in Florida. Having studied environmental policy, planning and law at ESF, she now hopes to attend law school to prepare for a career as an environmental attorney.
Other caps carried more whimsical messages. Taylor Grayson, who studied environmental biology and has her sights set on veterinary school, put a favorite quote on hers: "Adventure is out there," from the movie "Up." "It seemed like a good inspirational quote for today," Grayson said.
Lizzy McGinty, who studied aquatic and fisheries science, turned to the band Barenaked Ladies for a favorite line: "The odds are that we will probably be alright, " from the song Odds Are.
McGinty is still in the job hunt so the words have a special meaning for her. "I'm nervous about the future but it will work out," she said.
A few other caps bore painted images of graduates' favorite animals, such as a barn owl in a tree for wildlife science major Claire Revekant, who is headed to Monomoy National Wildlife Refuge on Cape Cod to study the American oyster catcher, a shorebird that feeds on bivalves.
An otter graced the cap of Holly Faulkner, who said the slinky mustelids are her favorite because they are creative and playful. Faulker had decorated classmate Steve Grant's cap with an image of Stitch from the animated film, "Lilo & Stitch." The long-eared blue alien, who goes through some difficulties before acquiring friends, family and a purpose in life, is Grant's favorite Disney character. Both Faulkner and Grant, who studied in the Department of Environmental and Forest Biology, are heading to Saratoga Springs this summer to monitor the endangered Karner blue butterfly.
As Convocation wrapped up, a smiling Kyle Wilkinson strode from the SRC Arena with a cap that saluted his accomplishment, his dedication to running and his former employment with a famous maker of athletic wear. Graduating with a B.S. in environmental studies, Wilkinson's first stop post-graduation will be an internship at the Syracuse Center of Excellence. Then he plans to move on to Fiji as a volunteer to teach English and assist in environmental projects.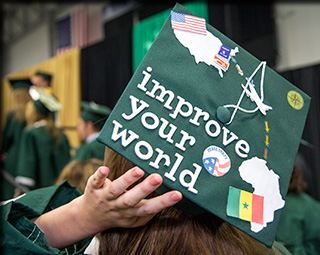 For the moment, he was happy with the latest milestone in his life: his cap bore a familiar "swish" logo and the words, "Just did it."
Recent ESF News
News Archives
Communications & Marketing
SUNY-ESF
122 Bray Hall
1 Forestry Drive
Syracuse, NY 13210
315-470-6644