SHARE:
To Row or not to Row
Beautifully carved paddle will help propel the AECs Chase guide boat

9/22/2009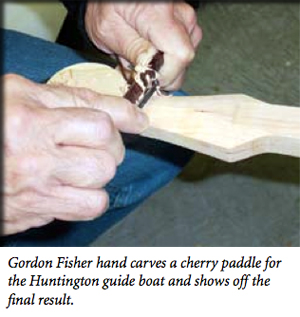 By Paul Hai
The ripples from last summer's Caleb Chase guide boat reunion continue to spread.
One of the attendees, Gordon Fisher of Long Lake and Delaware, has hand-carved a guide boat paddle for our Chase boat. And it is not just "a paddle": Carved from flame cherry, it is simply stunning. Most interesting, however, is that it follows Caleb Chase's own design.
One day while volunteering in the Adirondack Museum boat exhibit, Gordon discovered Caleb Chase had hand-carved beautiful, delicate paddles to accompany his guide boats. Gordon began working on boats and boat building after retiring from the engineering field in the 1980s. Since then, he has built several boats from scratch, carved many paddles and written authoritative books on both subjects.
As we continue to move forward with restoration plans for our boat, we are honored and excited to have this paddle, which will one day help our boat navigate the waters of HWF again.
Recent ESF News
News Archives
Communications & Marketing
SUNY-ESF
122 Bray Hall
1 Forestry Drive
Syracuse, NY 13210
315-470-6644