SHARE:
U.S. Secretary of Energy Visits ESF
Steven Chu is also Nobel laureate

10/9/2009
The video originally included in this story is no longer available via this page. Contact web@esf.edu if more information is required.
Copyright © All Rights Reserved by copyright holder
U.S. Secretary of Energy Steven Chu and Congressman Daniel B. Maffei (NY-25) visited SUNY-ESF Friday, Oct. 9, for a tour of the College's sustainable energy facilities.
Chu, who is also a Nobel laureate, and Maffei met with ESF President Cornelius B. Murphy, Jr., and other dignitaries for a tour of the College's pilot biorefinery plant, where work is being done to develop the use of wood as a source of sustainable energy.
"The people I've seen at this university should believe in what you are doing because it's the right thing," Chu said during a news conference in ESF's Bray Hall rotunda. "The enthusiasm of the faculty and students is leading the charge to new technology for the environment."
Chu told a crowd of ESF students, faculty, and staff members, along with civic and community leaders, that climate change and the need for alternative energy sources is a "rapidly changing set of constraints - or a set of opportunities."
He said a recent trip to China showed him that country is the world leader in high-technology manufacturing. But he said the spirit and innovation of Americans can make the United States the international leader. He called for a comprehensive energy and climate bill and said upstate New York's rich agricultural resources can create wealth in rural communities and produce resources for bioproducts and innovative sources of energy.
Chu was co-winner of the Nobel Prize for Physics in 1997. He has devoted his recent scientific career to the search for new solutions to energy challenges and stopping global climate change.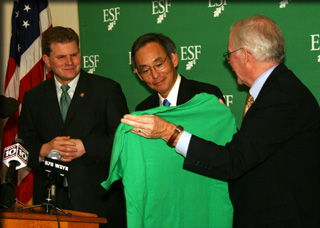 Chu jokingly acknowledged the news, reported earlier in the day, that President Barack Obama had won the Nobel Prize for Peace.
"It's great news," Chu said. "I get to teach him the secret handshake."
Earlier in the news conference, Maffei announced that the city of Syracuse will receive $1,444,500 in Recovery Act EECBG funds to improve energy efficiency and reduce greenhouse gas emissions, lowering the city's energy costs, while creating local green jobs.
Specifically, funds will be used to perform an energy retrofit of the City Hall Commons (CHC), including the installation of three high-efficiency heating and air conditioning units and the replacement of the building's windows and doors. The city will also install solar panels on the CHC, which will generate clean renewable electricity for daily operations.
Additional EECBG funds will be put toward several energy efficiency upgrades across the Syracuse community. At the Southwest Community Center, the Syracuse Fire Department Training Facility, Meacham Ice Rink, and Sunnycrest, McChesney, and Burnet Parks, inefficient existing light fixtures will be replaced with high-efficiency fixtures, reducing energy use while actually increasing lighting levels.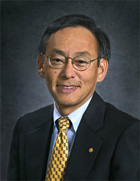 Three heavily used parking garages will also be retrofitted with new control systems line conditioners, which will reduce excess energy use. Based on a recent energy audit, these upgrades at the Harrison St., Warren St. and Washington St. garages will reduce energy costs by 20-35 percent.
Remaining EECBG funds will enable Syracuse to establish an Office of Conservation, Sustainability, and Energy Initiatives. Overall, these Recovery Act-funded activities are expected to result in substantial energy and cost savings for the City of Syracuse, and create 35 local green jobs.
Recent ESF News
News Archives
Communications & Marketing
SUNY-ESF
122 Bray Hall
1 Forestry Drive
Syracuse, NY 13210
315-470-6644