SHARE:
A Bird in the Hand
Monitoring grouse means catching them first and a thrill for a young scientist

10/15/2009
By Megan Skrip
Out of a silence until now broken only by the occasional buzz of a deer fly comes a sudden flurry of sound: rustling wings, scrabbling feet, urgent clucking - and a muted squealing; the latter not from the bird, but from me.
From a burst of exhilaration to absolute calm on that warm Adirondack afternoon in July 2007, I banded my first ruffed grouse. No previous wildlife experience could match the thrill of that first capture. My master's research officially commenced with gusto.
That summer, I embarked on a study of ruffed grouse and landscape ecology, the first New York study of grouse survival in more than 50 years, and an assessment of the species' ongoing statewide decline. With funding from the New York state Department of Environmental Conservation, I seek to assess the influence of habitat change and configuration at broad spatial scales on grouse fall/winter survival and statewide occupancy changes.
The ruffed grouse population in New York has fallen by more than 75 percent since the 1960s, according to the Breeding Bird Survey. The National Audubon Society calls the popular game bird a "common species in decline." I aim to identify the areas of severest decline and management need across the state, generating prescriptions based on landscape attributes.
The maturation of the state's forests has been cited widely as the cause of the grouse decline because it is eliminating the best habitat for the bird, which thrives in an early successional, or younger, forest. We seek to understand what drives this phenomenon and the mechanisms that contribute to grouse loss from specific areas. To achieve this goal required monitoring grouse via radio telemetry in areas with varying habitat conditions. We chose as our study sites the Fort Drum Military Installation in Jefferson County and Partridge Run Wildlife Management Area in Albany County.
But, to monitor grouse, you first have to learn to catch them. I had two main tasks as I began graduate school, having never before seen a grouse: learn as much about the ruffed grouse as possible and catch one!
With the help of work-study students and others, I established a suite of traps on HWF in a pilot precursor to autumn trapping. Former AEC staff member Scott Haulton, AEC wildlife biologist Charlotte Demers, and ESF Professor Emeritus Robert Chambers guided my approach to trapping and shaped my expectations. I used trap equipment from the intensive Appalachian Cooperative Grouse Research Project.
To say that I learned a lot that summer is an understatement, and when it came to trapping, a lot of my education came through error. I would never today set a trap how or where I did then, but part of the reward of experience is to look back and appreciate how far one has come.
I captured my first grouse at HWF. With the assistance of wildlife technician Jenn Burton, DEC personnel, and student volunteers, over the past two autumns we have captured more than 200! Jenn, serendipi- tously, helped me check traps on the first day I banded a grouse. She was an ESF senior finishing up the last of her credits that summer. She became the wildlife technician in fall 2007 and again in 2008.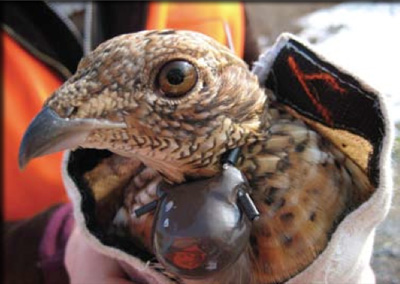 Flapping about to free itself, a trapped grouse fans its tail, spreads its wings, and clucks as we approach. We unclip the mesh top of the trap body and reach through to gently pin the bird to the ground, tuck its wings to its sides, and lift it out. We place the bird headfirst in a handling bag, and the grouse will sit there in bewildered silence, in the dark of the opaque canvas, as we carry it to the banding box. To process a bird, we weigh it, examine the feathers to determine age and sex, band it and attach a transmitter. And unlike some of those feisty passerines, the impressively docile ruffed grouse will tolerate the process with quite a resigned air
When the processing (and customary short photo shoot) is complete, we kneel to slowly open the canvas bag, then lean back and smile as the grouse takes to the air like a little feathered rocket.
With the fieldwork now at an end, my survival analyses are nearly complete, with landscape analyses to follow. While the statistical work continues to excite and challenge me, I hope I never forget how it feels to hold a grouse in my hands, its toes gripping my fingers and its solid weighty frame securely clasped between my palms. Since the summer of 2007, I have held scores of them, yet each grouse has left an individual impression. In one's hands, their small bodies are warm and soft, their little faces each so different, but each with a plucky crest, dark beak, and alert brown eyes; some, of course, with suspicious expressions.
In the preface to 1947's The Ruffed Grouse: Life History, Propagation, Management (a.k.a. "The Grouse Bible") by Gardiner Bump and others, Bump writes, "To know the grouse is to love it / And loving it, to wish it well." Upon first reading this statement, I considered it a nice sentiment, and a whimsical touch to an otherwise science-filled tome. Two years later, I recognize it as truth. I doubt that any passionate grouse researcher, with many hours spent afield with her study subjects, could feel otherwise.
Megan Skrip is a master's candidate in EFB with Dr. William Porter.
Recent ESF News
News Archives
Communications & Marketing
SUNY-ESF
122 Bray Hall
1 Forestry Drive
Syracuse, NY 13210
315-470-6644