SHARE:
Keeping up with the Proverbial Beaver
Colony activity has been monitored at Huntington forest for 50 years

10/27/2009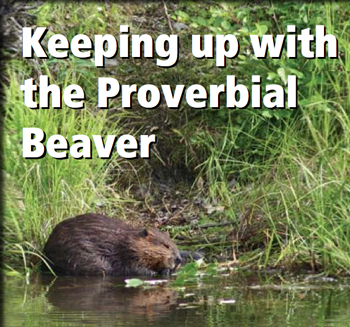 By Bill Dunker
The supposedly tireless work ethic of beavers is personified in the classic idiom "busy as a beaver." Since recovering from near extirpation statewide in the early 1900s, beavers are a driving force in New York's ecosystems, particularly in the Adirondacks. The beaver's return to lakes and streams is a conservation success story and can be attrib- uted to wildlife management and the animal's industrious habits.
Beaver ecology and management have been studied since the 1950s at HWF. Beaver colony activity has been monitored annually since 1979 as a part of the Adirondack Long Term Ecological Monitoring Program (ALTEMP). The ALTEMP dataset has contributed greatly to understanding the role these ecosystem engineers play in shaping hydrology, nutrient cycling, biodiversity and landscape processes. Monitoring beaver colonies requires persistence and knowledge of the seasonal needs of the animal.
Beginning in early autumn, beavers begin preparations for the cold months to follow. Dams and lodges are constructed or repaired to protect the colony from cold winds, heavy snows and hungry predators. Stems of shrubs and trees, the provisions necessary to survive until spring, are cut, dragged to the water and stored in a food cache near the lodge, turning iced-over ponds into chest freezers. Over time, a colony typically occupies different ponds or shoreline areas within their territory, and a fresh cache signifies current presence.
The success of the ALTEMP beaver surveys can be attributed to their simplicity. All water courses are searched and caches are marked on maps or with GPS units. The search includes the efforts of AEC staff and student volunteers as well as local pilots from Helms Aero Service in Long Lake looking for caches by boat, foot and air. Active sites are added to a spatial database used to estimate changes in the beaver population index and assess beaver impact on wetlands and adjacent upland forests.
In November 2008, nine members of the student chapter of the Wildlife Society at ESF participated in the 29th year of the survey. A chilly blue-sky morning greeted volunteers as they prepared to head into the forest in hopes of finding evidence of activity. While able to cover only a fraction of the total length of stream and lakeshore in one day, the students witnessed a variety of old and new impoundments created by beavers. In 2008, there were 23 active colonies, up from the previous year's 21.
Bill Dunker has a B.S. in EFB.
Recent ESF News
News Archives
Communications & Marketing
SUNY-ESF
122 Bray Hall
1 Forestry Drive
Syracuse, NY 13210
315-470-6644