SHARE:
AIC's Artist-in-Residence to Be Featured in ESF Show
Exhibit of Frances Gaffney's work set for Alumni and Family Weekend

9/29/2014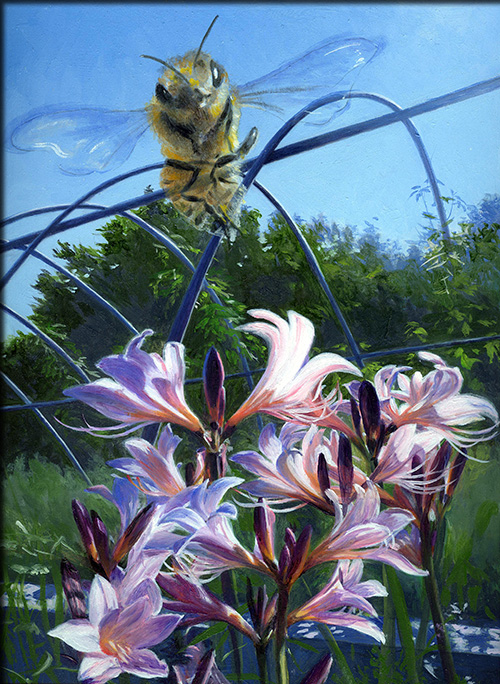 The work of artist Frances Gaffney will be exhibited on the ESF campus as part of Friends and Family Weekend in October.
Gaffney spent the summer as artist-in-residence at ESF's Adirondack Interpretive Center (AIC) at the college's Newcomb Campus. Throughout the summer, she worked onsite, creating pieces inspired by the local landscape. Her work was on display all summer at the AIC and will be on display in 110 Moon Library as part of Alumni and Family Weekend, Oct. 8-11.
Gaffney will be in attendance at the opening reception noon to 1:30 p.m. Oct. 8 in 110 Moon Library.
Through the summer, Gaffney led drawing and watercolor workshops on the last Saturday of every month, and provided an insider's look at her experience at the AIC blog.
Gaffney, who frequently uses the Adirondacks as a backdrop and source of inspiration, is the first artist in residence at the AIC, the site of public outreach at the Newcomb Campus.
Prior to coming to the AIC, Gaffney began a series of paintings titledFeeling is the Prayer. As detailed in her artist statement, these paintings reflect the possibility that "our intentions are a form of prayer and that prayer succeeds only by experiencing the intent of the prayer as if it has already occurred." She worked on this series during her residency at the AIC.
In addition to painting, Gaffney interacted with the public, working along the trails every Sunday; guests often stopped by to chat and observe the artist as she worked.
Gaffney's work is a continuation of a long history of artists working on the Huntington Wildlife Forest, the 15,000-acre property that is part of the Newcomb Campus. With pristine lakes, bountiful wildlife and mountains on the horizon, the forest has been inspiring artists for years.
The Huntington Wildlife Forest was donated to ESF in 1932 and 1939 by Archer and Anna Huntington. Anna Hyatt Huntington was a widely known sculptor in the early- and mid-1900s and had a studio on the property where she studied wild and captive animals, including exotic deer that were kept in a large enclosure right outside the studio. Her work can be found throughout the eastern United States, including Brookgreen Gardens in South Carolina and Central Park in New York City. "Young Abe Lincoln on Horseback," a sculpture ESF students walk by everyday on the main campus in Syracuse, was crafted by Anna Hyatt Huntington.
Recent ESF News
News Archives
Communications & Marketing
SUNY-ESF
122 Bray Hall
1 Forestry Drive
Syracuse, NY 13210
315-470-6644