SHARE:
Morningside Trail Reborn
Edward Smith School sixth-graders plant 40 native trees after SUNY-ESF students rehabilitate the nature/science trail

11/19/2009
The video originally included in this story is no longer available via this page. Contact web@esf.edu if more information is required.
Copyright © All Rights Reserved by copyright holder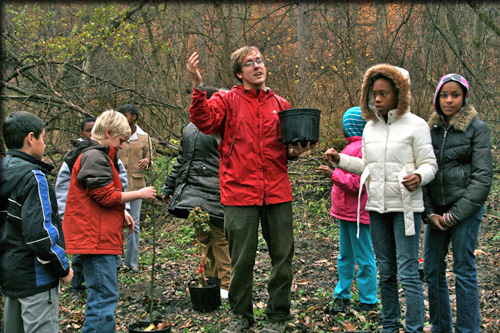 SYRACUSE, N.Y. -Sixth-graders at Edward Smith School in Syracuse planted 40 native oak and maple trees today (Nov. 19, 2009) as they put the finishing touches on the recently rehabilitated Morningside Nature/Science Trail.
The tree planting is the culmination of several years of involvement by students at the SUNY College of Environmental Science and Forestry (ESF), who worked on the trail as a service-learning experience that was part of their environmental interpretation studies.
The sixth-graders planted 40 red oaks, sugar maples and red maples.
Edward Smith sixth-grade teacher James Dow said the planting coincides with the children's science unit on plants.
"They get to see plants in their native environment," Dow said. "It's going to show them how plants grow and reproduce. This activity fits in well with what we do at Edward Smith School because we are a 'Go Green school.' We have made a commitment to be environmentally conscious and we do a lot of recycling."
D. Andrew Saunders, an ESF faculty member who is coordinator of the ESF natural interpretation major, said Smith parent Paul Harvey and members of the Edward Smith School Parent Teacher Organization asked him about three years ago to help rejuvenate a nature trail that had all but disappeared because of a lack of maintenance.
"So teams of my students in different courses have completed different phases of the project for about six semesters," Saunders said. "The project uses a new concept in science education, the Science Trail, by adapting a nature trail to interest kids in nature and in science activities by exploring ecology and conservation themes while doing inquiry-based science."
Saunders said children can use the trail, which is adjacent to school property, to conduct their own investigations of subjects such as habitat fragmentation, invasive species, herbivory and decomposition. Over the years, students can build on information garnered by their predecessors.
"The outcome is to produce healthier, happier kids who are interested in science and nature and to make better decisions as adults as a consequence of their knowledge," Saunders said.
ESF students, under the leadership of graduate assistant Anne Katherine Schlesinger, have put finishing touches on what Saunders called the "outdoor classroom," having finished the science and the multidisciplinary activity booklets and self-guiding nature trail booklet.
One of the parents involved in the project was ESF alumnus Stephen Harris, who earned his master's degree in forest resource management in 2001. His son Bela is a sixth-grader at the school. Younger son Max is in first grade.
"I was motivated to find a way to give my son and his classmates an opportunity to do active habitat restoration right in their backyard," Harris said. "I would like to see something much more comprehensive and long term for more grades - like an Extreme Ecology Makeover."
"It's a way to show that it's possible to use native species in ecosystem restoration. People don't understand how invasive species have affected the understory of that forest," he said.
Harris, a certified arborist, works in business development for RPM Ecosystems of Dryden, which donated 10 of the trees that were planted. Ten more trees were donated by the school parent teacher organization and another 10 were donated by ESF's environmental interpretation program.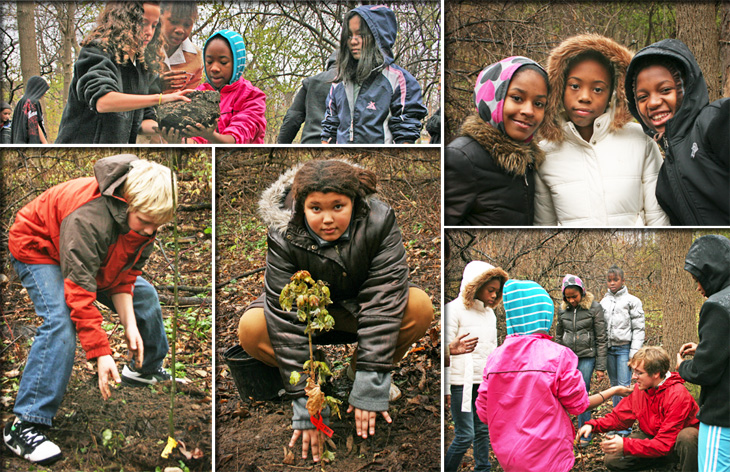 Recent ESF News
News Archives
Communications & Marketing
SUNY-ESF
122 Bray Hall
1 Forestry Drive
Syracuse, NY 13210
315-470-6644