SHARE:
Recalling Recollaring: Winter Marten Research
Tracking animals winter behavior uncovers changes in foraging habits

11/25/2009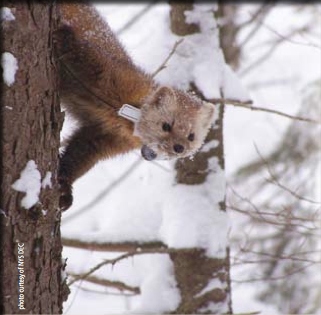 By Lacey Kreiensieck and Adia Sovie
Last winter, we began work on a project focusing on the behavioral ecology of American marten in the central Adirondacks. As New York state Department of Environmental Conservation (DEC) interns, we helped trap, collar, locate and backtrack marten. The study is funded by the DEC and aims to collect baseline data on the health and status of martens in the Adirondacks. Our work was primarily on the Huntington Wildlife Forest (HWF) and Elk Lake area to the east.
One day of fieldwork sticks out in our minds: our first marten capture. We had spent a week checking and baiting Tomahawk traps with jelly and sardines. Finally, after about a week of trapping we captured a young male.
Our supervisor, Paul Jensen (an HWF alumnus), prepped the radio collar and asked us to put jelly on a stick and feed the marten through the trap for an energy boost. It was at that moment we discovered martens adore Smucker's jelly (at least the strawberry flavor)! Although it was obvious from the perpetual growling the marten did not enjoy our presence, he didn't hesitate to lick off every bit of jelly we offered him.
After we fed the marten, we coaxed him out of the trap and into a mesh bag and capture cone. This safely immobilized the marten while we anesthetized him. We then weighed, measured, sexed, and ear-tagged him (number 5341) and fitted his radio collar. After an hour's recovery it was time for the release. When we opened the trap door with a stick (because getting a quick bite from a feisty marten was a good possibility), he took one glance at us and bolted. Ducking and diving in the snow, as if to wash the human scent off, he loped out of sight.
We learned about his fine-scale habitat use and movements by backtracking and frequent ground telemetry. We discovered 5341 was hanging around a deer carcass not far from the AEC but after a few weeks, the marten moved north. Trail cameras set up on the carcass revealed a fisher and two feral cats had moved in and perhaps had forced 5341 out. With aerial telemetry we located the marten north of HWF near Moose pond, nearly seven miles away!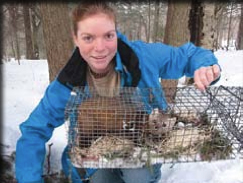 Over the course of the winter we collared five new martens and re- collared four martens whose transmitter batteries had quit. Twenty martens were collared, divided evenly between Elk Lake and HWF. In addition to establishing home ranges and life histories we also hope to document how martens respond to fluctuations in the small mammal population. While backtracking we observed martens foraging above snow more often than foraging in the subnivean zone (under the snow). This indicates martens may change their foraging habits to focus on grouse, squirrel, and snowshoe hare when small mammal populations are low, as they were this past winter.
Our experience at the AEC has been extremely positive. We have developed and improved many skills. We have seen beautiful country and an abundance of wildlife. Finally, and perhaps most importantly, we have met intelligent, talented and welcoming people who made our stay exceptional. Although we were both sad to leave this vibrant community, we are excited about moving on to new places. If only the snow would hold out a little longer...
Lacey Kreiensieck has a B.S. from the University of Pittsburgh and moved on to California for marten/fisher research. Adia Sovie has a B.S. from the University of Massachusetts, Amherst, and switched from carnivore projects to those involving shorebirds.
Recent ESF News
News Archives
Communications & Marketing
SUNY-ESF
122 Bray Hall
1 Forestry Drive
Syracuse, NY 13210
315-470-6644