SHARE:
ESF Tops U.S. News List of Colleges Offering Small Classes on a Budget
College's small classes have big payoff for students

12/3/2009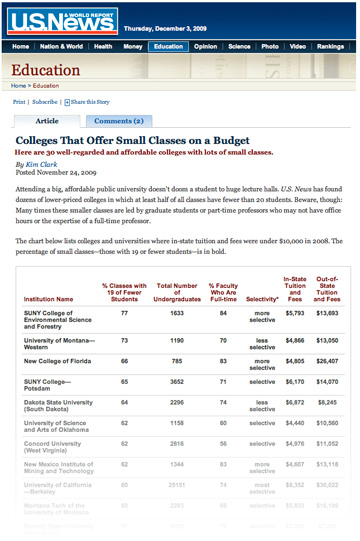 SYRACUSE, N.Y. - U.S. News and World Report placed the SUNY College of Environmental Science and Forestry (ESF) at the top of its list of colleges that offer small classes and charge less than $10,000 per year for in-state tuition and fees.
"Attending a big, affordable public university doesn't doom a student to huge lecture halls," the report stated.
That is evident at ESF, where seventy-seven percent of the undergraduate classes have 19 students or less. Combined with the College's high percentage of full-time faculty and "more selective" admissions standards, the College topped the list of 29 affordable public institutions. Other schools listed included three SUNY campuses (Potsdam, Fredonia and Alfred Tech), the University of California-Berkley, UCLA, and the University of Tennessee.
Earlier this year, U.S. News and World Report included ESF in several other national rankings. In the magazine's list of best national universities, which included both public and private institutions, ESF was ranked 80th overall, and only Yale University was ranked higher for small class size. The College was also ranked 17th in the "Great Schools, Great Prices" category.
Recent ESF News
News Archives
Communications & Marketing
SUNY-ESF
122 Bray Hall
1 Forestry Drive
Syracuse, NY 13210
315-470-6644