SHARE:
ESF Wreath Brightens Annual Festival of Trees
Wreath celebrates holiday season with Adirondack properties

12/7/2009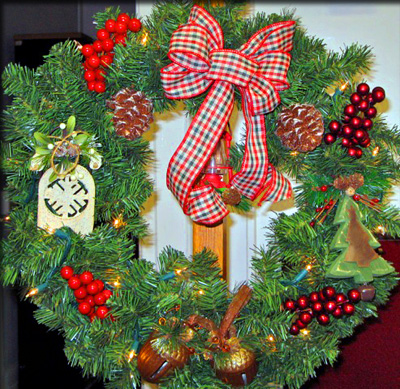 ESF helped deck the halls for the Everson Museum. The College has donated a decorated wreath to the annual Festival of Trees.
The ESF wreath celebrates the holiday season as experienced from the College's nearly 20,000 acres of teaching, research and demonstration properties within the Adirondacks. The wreath is adorned with ornaments that call to mind winter in the Adirondacks: a sled, an evergreen tree, a kerosene lantern, and acorns to celebrate the identity of the College's new intercollegiate athletic teams - the Mighty Oaks.
ESF operates The Ranger School in Wanakena, where students study forest technology and land surveying technology; the Adirondack Ecological Center in Newcomb, where researchers provide the science that underpins the management of the park; and Pack Demonstration Forest in Warrensburg, which hosts environmental education camps run by the New York Department of Environmental Conservation.
The Festival of Trees runs 10 a.m. to 7 p.m. Dec. 4-13. This year's festival is being held at the former BonTon location in the Shoppingtown mall, Dewitt. For complete event information, go to http://www.everson.org/events/unwrapped.php
Recent ESF News
News Archives
Communications & Marketing
SUNY-ESF
122 Bray Hall
1 Forestry Drive
Syracuse, NY 13210
315-470-6644