SHARE:
Partnership Focuses on 'Great South Woods'
ESF, DEC and partners work to enhance recreation opportunities

12/3/2014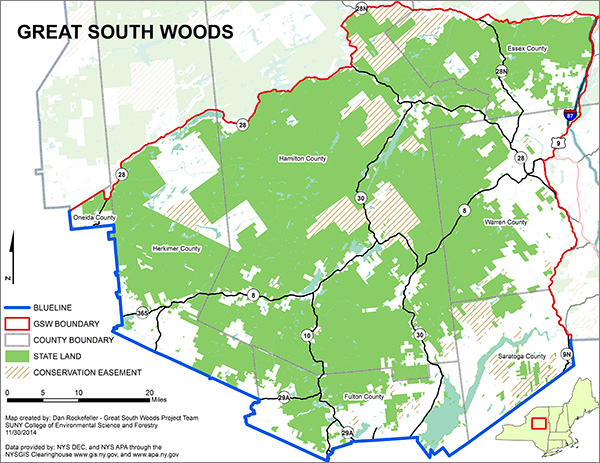 The SUNY College of Environmental Science and Forestry (ESF), working with the Department of Environmental Conservation (DEC) in partnership with local government and the Adirondack Park Agency (APA), will launch an effort this month to gather public input about how to diversify and enhance outdoor recreation opportunities in the "Great South Woods" – a vast area of public and private lands encompassing more than two million acres in the southern Adirondack Park.
The Great South Woods initiative will begin with an open public meeting 5:30 to 8:30 p.m. Wednesday, Dec. 17, at the Lake Pleasant Central School in Speculator, N.Y.
DEC Commissioner Joe Martens said, "This initiative furthers Governor Andrew Cuomo's vision of drawing more visitors to upstate New York State to enjoy the tremendous recreation opportunities this state offers. The beauty of the Adirondack Park is unsurpassed, and embarking on this initiative to explore the recreational potential of the Great South Woods is exciting. This project launches a new approach to regional recreational planning – one intended to better connect communities in the Park to one another and to the Forest Preserve and Conservation Easement lands in and around them. "
Dr. Colin Beier, project leader for ESF, said, "We at ESF are building on more than a decade of close partnership with the DEC on Forest Preserve planning. We are excited to begin this new phase and to work directly with communities to identify a portfolio of viable options for future recreation across the Great South Woods. I am hopeful that this initiative can provide a model for a new era of collaborative planning that empowers communities while sustaining the wild character of the Adirondack Park."
DEC has sponsored the Great South Woods (GSW) initiative with the goal of creating a destination-based system of trails and recreation assets to stimulate economic activity while protecting the region's unparalleled natural resources and wild character. ESF will facilitate the participatory process to engage local knowledge about how best to connect recreation destinations and communities through recreation infrastructure.
The project will develop a new strategic vision for recreation infrastructure across the vast Great South Woods region, where nearly two of every three acres is State land, and where a diversity of natural settings remain an untapped resource for local communities and tourism-oriented businesses. The new initiative will generate a digital map-based inventory of existing and potential land and water trails and associated recreation infrastructure, as well as lodging facilities and other amenities currently available or needed to support recreational visitors. The process will draw on the knowledge, ideas and priorities of local residents and visitors, as well as guides, outfitters, recreationists, business owners and other stakeholders across the southern region of the Park. Digital and online mapping tools will help to gather and analyze this information, in order to generate new ideas and options for regional recreation planning.
Bill Farber, Chairman of the Hamilton County Board of Supervisors, who has helped build this partnership said, "This unique opportunity to integrate community planning with natural resource planning represents the future of the State and local partnership. I explain this project to others as our chance to plan towards a sustainable tourism economy in the Park."
At the Great South Woods kick-off meeting Dec. 17 in Speculator, the public is invited to learn about this effort and contribute their knowledge and ideas about existing and potential recreation trails and destinations. This meeting will be followed by workshops in individual communities across the region, from January through March, to brainstorm about ways to increase connectivity, diversify recreation opportunities, and improve recreation settings in both the less remote "front-country" areas near communities and transportation corridors, and the core "back-country" areas that offer remoteness and solitude. All information gathered will be combined with existing data to "map out" a variety of options for new recreation opportunities in the GSW. After sharing these initial results with communities, the project will formulate recommendations for a destination-based trail system that ties public lands to the communities in the region and helps to better connect communities to each other.
APA Chairwoman Leilani Ulrich said, "The Agency is excited to be part of this innovative planning process. We look forward to advancing Governor Cuomo's agenda to link New York State's Adirondack Forest Preserve in a sustainable way to Adirondack communities. This inclusive planning process will bolster tourism, stimulate economic opportunities and ensure the long-term preservation of the Park's outstanding natural resources. The Agency hopes there will be significant public input to help develop a comprehensive plan."
Jack Drury and Dr. Joseph Dadey of professional development firm Leading E.D.G.E have noted that they are "very excited about advancing locally driven recreation planning to this new level." As experts in the fields of community engagement and outdoor recreation, Drury and Dadey are pleased to be "partners in this initiative to map out the true potential for recreation in the Park to draw visitors from across the globe."
Members of ESF's Great South Woods team include Dr. Andrea Parker and Dr. Paul Hirsch in the Department of Environmental Studies, who are leading the design and implementation of the community-based participatory process. Brian Houseal and Stacy McNulty at the Adirondack Ecological Center (Newcomb Campus) are providing expertise in Adirondack Park policy and planning, as well as engaging project partners at many levels. Graduate student collaborators include Abigail Larkin (Ph.D. candidate in the graduate program in environmental studies/environmental and natural resource policy), Erin Swallow (Ph.D. student, environmental studies), Rebecca Walker (master's student, environmental communication and participatory processes, master's student in public adminstration at Syracuse University) and Daniel Rockefeller (master's student, forest and natural resources management).
Recent ESF News
News Archives
Communications & Marketing
SUNY ESF
122 Bray Hall
1 Forestry Drive
Syracuse, NY 13210
Communications@esf.edu