SHARE:
ESF LA Faculty Members Honored by ASLA
Toland, Curry receive awards

1/7/2015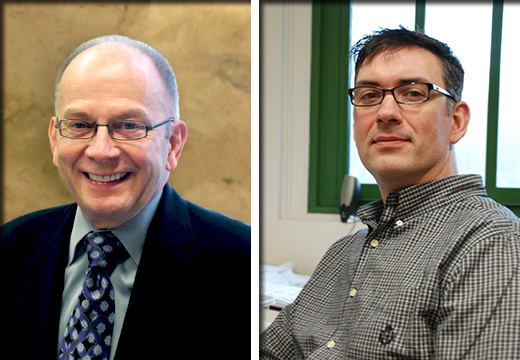 Two faculty members and a student from ESF's Department of Landscape Architecture were honored by the Upstate New York Chapter of the American Society of Landscape Architects (ASLA).
Associate Professor Timothy Toland and Distinguished Teaching Professor Emeritus George Curry were honored with the Distinguished Academic Practitioner award and the Lifetime Achievement Award respectively. Fifth-year student Gena Morgis received the Distinguished Student award.
Toland received the Distinguished Academic Practitioner award which recognizes an outstanding individual practitioner for achievements in three areas - design, leadership and ASLA Chapter involvement.

Toland earned an associate's degree in landscape development and a bachelor's in plant science from SUNY Cobleskill and then a master's degree in landscape architecture ('98) from ESF.
As a licensed landscape architect, he has practiced in Virginia, Ohio and North Carolina. He worked on and led a number of project types, focusing on transit and urban planning, site planning and detailed design for commercial and institutional projects, residential community master plans, multi-family residential projects, urban streetscape design and garden design.
He joined ESF's Department of Landscape Architecture in 2005 as an assistant professor. At ESF he teaches the planting design and practice sequence to graduate and undergraduate students, as well as construction materials and undergraduate senior design studios. His scholarly focus in on applied sustainability, looking at the implications of decisions made during the design process.
Curry, who is the Endowed Kennedy Chair as well as a Distinguished Teaching Professor Emeritus, received the Lifetime Achievement Award. This award recognizes an individual practitioner for contributions to the profession during the course of the career.
Curry's academic career spans more than four decades at ESF. A pioneer in the field of cultural landscapes, his dedication to his students and profession have earned him numerous recognitions, including the 2008 New York Professor of the Year designation from the Carnegie Foundation for the Advancement of Teaching and the Council for Advancement and Support of Education and the 2007 Landscape Architecture Educator of the Year award by DesignIntelligence magazine.
At ESF, Curry helped develop the college's pioneering "Off-Campus Program" that requires landscape architecture students to spend a semester working in the field on a design project they propose and develop. Since its inception in 1970, more than 1,000 students have participated in the program, living and learning in more than 175 locations in more than 30 countries.
Curry's involvement in cultural landscape preservation research with the National Park Service and the New York State Office of Parks, Recreation and Historic Preservation has been a major professional focus for the last 20 years while he continued to teach undergraduate and graduate students at ESF.
Curry has been instrumental in revitalizing a number of neighborhoods in the Syracuse area, including Syracuse's Armory Square, which is now listed in the National Register of Historic Places.
Morgis was honored with the Distinguished Student award. This award recognizes students who have demonstrated exceptional leadership and service within the Department of Landscape Architecture or in other activities in the community related to the profession.
Recent ESF News
News Archives
Communications & Marketing
SUNY-ESF
122 Bray Hall
1 Forestry Drive
Syracuse, NY 13210
315-470-6644