SHARE:
Karaline Rothwell Honored With Unsung Hero Award
ESF admissions advisor recognized for work on city's Near West Side

1/20/2015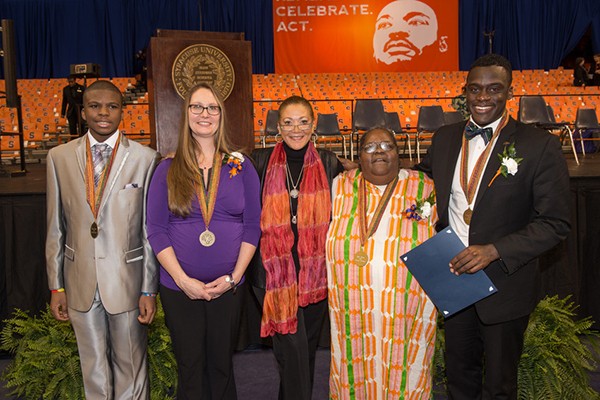 Karaline "KC" Rothwell developed her passion for Syracuse's Near West Side neighborhood when she first came to Syracuse 16 years ago. Since then, she has spent countless hours working to improve the area she calls home.
Rothwell, admissions advisor in ESF's Office of Undergraduate Admissions, will be honored with Syracuse University's 2015 Unsung Heroes Award for her volunteer commitment on Syracuse's Near Westside neighborhood. The award will be presented Jan. 18 during the 30th Annual Martin Luther King Jr. Celebration dinner.
Rothwell dedicates countless hours to making the Near West Side, where she lives, a better place. When she arrived in Syracuse in 1999, her first job was as the program coordinator for youth with Catholic Charities Vincent House. "That's where I developed my passion for the neighborhood," she said.
Later when it came time for her and husband, Isaac, to buy a house, they decided to put down roots in the neighborhood they felt a connection to. "We knew we had a passion for living in the city and helping the city grow," she said. "It brought us back to our mission."
Rothwell is co-chair of the Westside Residents Coalition, and has worked to bring understanding, action and advocacy to the issues that negatively affect the neighborhood.
"Most people would give up in the face of what seems to be an unbeatable battle against poverty, class and race, but Karaline doesn't waiver, even when many people in the neighborhood assume she is an outsider," said Isaac, who nominated her for the award.
"There's a perception that there's a lot of crime," said Rothwell, and while there are those incidents, that's not the whole picture. "It's for a person who likes to live in a city. It's near downtown, there's a fun urban environment with lots of diversity."
This year, Rothwell played a key role in bringing awareness to a neighborhood issue of syringe litter, a byproduct of the heroin epidemic. Bothered by the system's inaction in dealing with the issue, Rothwell organized a group of neighbors to go block to block, distributing information about the need to avoid discarded syringes and to contact authorities for proper disposal. She also organized a litter cleanup campaign and worked with city officials on the proper protocol for response to calls from the neighborhood for syringe cleanup.
Instead of taking vacations, Rothwell uses her time off to advocate for the neighborhood by attending city or county meetings and working to engage people in the neighborhood.
"It's difficult to engage people when you work during the day," she said, but that engagement is vital to the success of Saturday volunteer days where the group might do a litter cleanup or shovel sidewalks.
Rothwell also oversaw the effort to harness funding and manpower to install new landscaping at a veterans memorial in Skiddy Park.
"The spirit I saw in MLK is what I have always seen in Karaline," said her husband. "She seeks justice and knows the truth, determination and non-violent effort/confrontation will always prevail if you never give up and your cause is truly just."
Recent ESF News
News Archives
Communications & Marketing
SUNY-ESF
122 Bray Hall
1 Forestry Drive
Syracuse, NY 13210
315-470-6644