SHARE:
Harry Potter Flies into ESF's Moon Library
College hosts traveling exhibit on boy wizard, science and magic

1/20/2015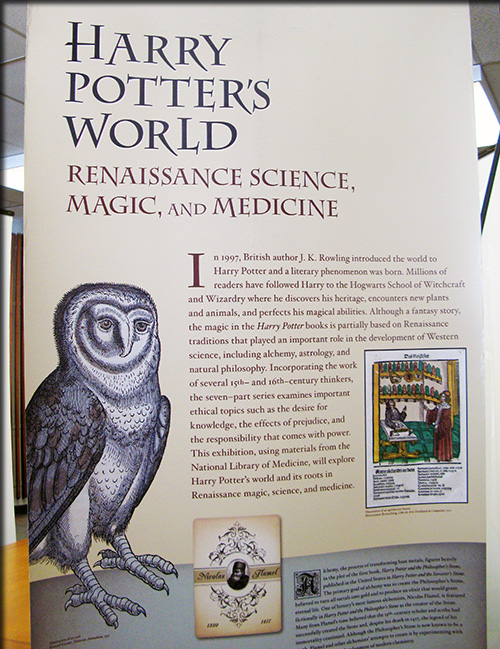 You don't need a letter delivered by owl to visit the world of Harry Potter. A simple trip to Moon Library will grant you passage into the world of wizards, magical creatures, potions and science.
Harry Potter's World: Renaissance Science, Magic, and Medicine, a traveling exhibit sponsored by the National Library of Medicine, is on display at Moon Library on the campus of the SUNY College of Environmental Science and Forestry (ESF) Jan. 19 through Feb. 28.
"The exhibit is used to highlight an interest in history of science using this fictional world," said Jessica Clemons, senior library assistant, who was responsible for bringing the exhibit to ESF. The college was on a two-year waiting list to get the exhibit.
Harry Potter was introduced to the real world by author J.K. Rowling in 1997. Since then, millions have read the books and seen the movies chronicling Harry's adventures at the Hogwarts School of Witchcraft and Wizardry and his battle against the evil Voldemort.
"Although a fantasy story, the magic in the Harry Potter books is partially based on Renaissance traditions that played an important role in the development of Western science, including alchemy, astrology, and natural philosophy," according to the exhibit text.
The exhibition uses materials from the National Library of Medicine to explore Harry's world and its roots in Renaissance magic, science, and medicine.
Along with the traveling display, the staff of Moon Library has put together additional Potter-related displays including books from the Moon Library collection related to topics in the Harry Potter books such as mysticism, owls, potions and fungi, said Clemons.
The staff is putting the final touches on a Feb. 13 Harry Potter event for campus that will include trivia, games and possibly a visit from the SU/ESF Quidditch Club which plays an Earth-bound version of a popular game played on broomsticks in Harry's magical world.
Stephen Weiter, director of college libraries, noted that Harry Potter is a cultural touchstone for the current generation of undergrads. "When you make a cultural reference to Star Wars, maybe 40 percent of the students will get it. With Harry Potter, you get 100 percent understanding for a cultural reference," said Weiter.
Clemons said initial reaction to the exhibit has been favorable. "I've heard students walk by and say, "oh cool," or "I love Harry Potter but what I really hope to hear people say is "I'm Gryffindor" or "I'm Hufflepuff."
Recent ESF News
News Archives
Communications & Marketing
SUNY-ESF
122 Bray Hall
1 Forestry Drive
Syracuse, NY 13210
315-470-6644