SHARE:
Syracuse Mayor Delivers State of the City Address at ESF
ESF chosen for its focus on the environment

1/29/2010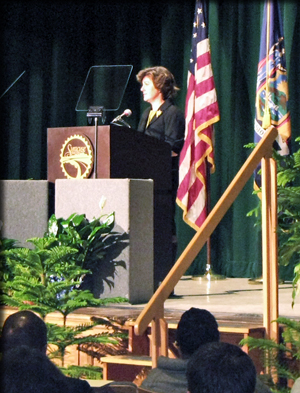 Mayor Stephanie Miner gave her first state of the city address Thursday night to a packed Marshall Auditorium at the SUNY College of Environmental Science and Forestry.
Miner said she chose ESF because of its focus on the environment and to highlight one of the many institutions she intends to work with during her tenure.
"I can think of no better place than SUNY-ESF to host my first state of the city address. As most of you know, ESF is the only college in the nation devoted exclusively to the study of the environment, developing renewable technologies and building a sustainable future," said Miner.
She continued, "ESF is one shining example of the many institutions we in Syracuse have ready to partner with us to embrace innovation and to create new opportunities for our region."
Mayor Miner unveiled many changes during her speech. She said she has struck an agreement with Onondaga County Executive Joanie Mahoney to create a single office for both county and city economic development staff within the year to facilitate cooperation.
She unveiled an added Say Yes to Education program benefit for students who had been locked out of Say Yes tuition scholarships at most participating private colleges due to family income caps. She's also shifting more than $1 million from staff salaries to housing programs by consolidating economic development and community development functions into one office.
About 450 attended the event during a blustery snowstorm that caused an advisory against unnecessary travel. It was Miner's first lengthy public address since she took office Jan. 1.
Recent ESF News
News Archives
Communications & Marketing
SUNY-ESF
122 Bray Hall
1 Forestry Drive
Syracuse, NY 13210
315-470-6644