SHARE:
Engineers With Appetites Returns to ESF
Dinner supports club's international projects

1/28/2015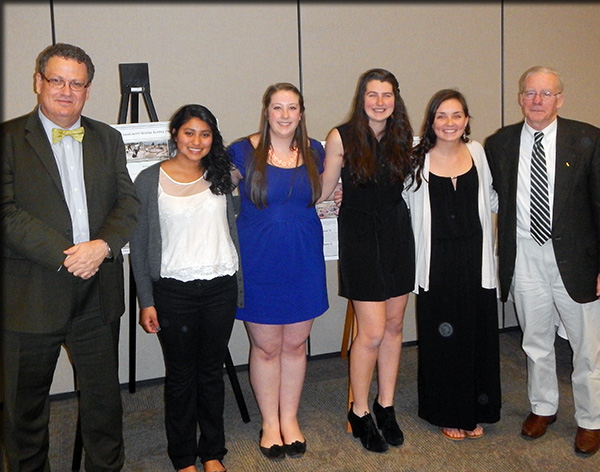 Engineers with Appetites returns to the ESF campus April 2.
Hosted by ESF's Engineers for a Sustainable Society/Engineers Without Borders (ESS/EWB), the event is a dinner that raises funds for the group's international projects.
"The dinner also helps the group achieve its mission of uniting the talent, training and resources of organizations in the United States with the need for sustainable development abroad," said Alexander Caven, a senior majoring in Environmental Resources Engineering (ERE) and coordinator of the group's Haiti project.
ESF-ESS/EWB is composed of more than 80 engineers, scientists, landscape architects and environmental scholars with an interest in international development. Currently ESS/EWB has four active international projects: water distribution in Honduras, rural electrification in Peru, sanitation and hygiene in Guatemala, and both sanitation and reforestation in Haiti. Funds raised from the dinner will be used to finance these ventures.
The Fourth Annual Engineers With Appetites will be held in ESF's Gateway Center, with cocktails at 5:30 p.m. and a sit-down dinner and speakers beginning at 6 p.m. Event speakers are Thomas J. Decker, 2014 ESS/EWB president; Adel Uhlarik, Peace Corps volunteer in Senegal; and Matthew Millea, New York State deputy secretary of state for planning and development. The evening will also feature a raffle with prizes including ESF merchandise, discounts to local businesses and restaurants, gift cards, and handmade items collected from the countries in which the club has worked.
"Group members devote their time and energy to help the chapter build sustainable infrastructure abroad while also increasing domestic awareness of the needs of people in the developing world," said Caven. Students involved in the projects benefit on numerous levels, including a sense of satisfaction when the project is completed, education on the principles of sustainable engineering design, and hands-on experience working with fellow ESS/EWB members, professionals, and other student organizations, according to Caven.
ESS/EWB members are planning a spring break service trip in March 2015. Club members will travel to Haiti to work with the NGO Sustainable Organic Integrated Livelihoods (SOIL). The team will build a compost sifter to facilitate SOIL's sanitation operations in the capital city of Port-au-Prince, a city with virtually no sanitation infrastructure. The team will build relationships with the governmental agronomy school to further efforts for a reforestation program started by ESF alumnus Stan Hovey ('55, BS, forestry; '56, MS, photogrammetry).
Questions regarding the dinner can be sent to Caven at, apcaven@gmail.com.
Recent ESF News
News Archives
Communications & Marketing
SUNY-ESF
122 Bray Hall
1 Forestry Drive
Syracuse, NY 13210
315-470-6644