SHARE:
Campus artist makes her mark in the snow
ESF sophomore produces random works of art

2/2/2015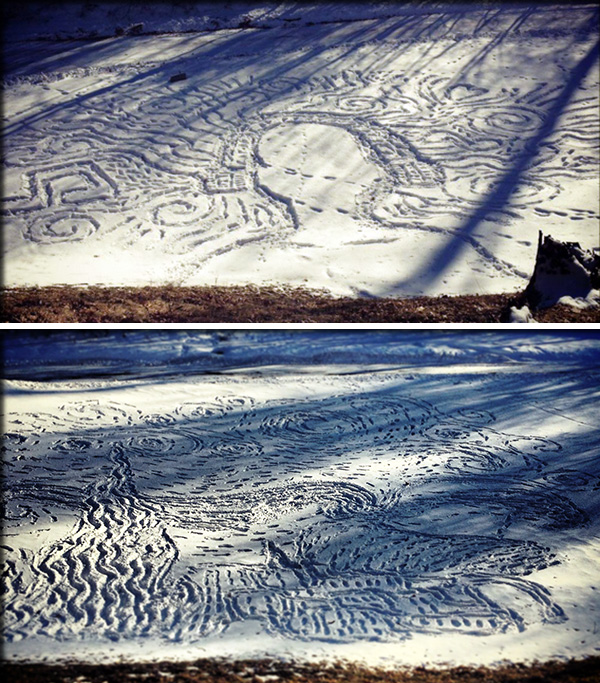 As a sophomore at ESF, Heidi Faulkner has already left her mark on campus and its surrounding environs.
Faulkner, a conservation biology major, is the artist behind some of the random acts of art that have been spotted in and around ESF. Up until now, Faulkner has remained fairly anonymous. Only her Twitter followers know she's created something when she posts a photo.
She began her clandestine art her freshman year when two things intersected: her urban environment class and the peace she finds in the Oakwood Cemetery, which is adjacent to campus. That year, she did a rendition of Van Gogh's "Starry Night" in the snow.
"I like to go out in the snow in the cemetery and because we had an urban nature class I just started thinking about art in the snow," she said. "I thought, 'This would be a great place to do some art.'"
Faulkner creates her snow pictures by walking - footprints and snow being her only materials. "Sometimes I wish I had something I could reach over and do stuff with," she said, "Usually I just have to hop really far." All that hopping and walking have an added benefit. "It's quite a workout," she said.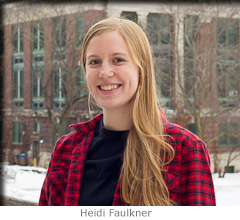 Sometimes Faulkner has an idea of what she wants to create before she goes outside. But, she said, "once I get outside I have to rethink it because if you have too many footprints the picture won't work." To that end, she said she sticks to more Impressionistic works. She tries to work in an area where there's a hill so she can check the work from a different perspective, she explained. "Otherwise I have to map it out in my head."
The Deposit native has always loved art. "I almost wanted to be an artist when I grew up, but then thought, 'science is good for getting jobs,' but art can always be on the side," she said.
Faulkner's campus artwork isn't limited to snow in the cemetery. "I've gone into empty classrooms and drawn on the boards if I think of a good idea," she said. She recently did a rendition of Shroom from the Mario Brothers video games on the patio area south of the Gateway Center. "But by the morning everyone had walked over it, so I prefer to work in the cemetery because it lasts longer."
Recent ESF News
News Archives
Communications & Marketing
SUNY-ESF
122 Bray Hall
1 Forestry Drive
Syracuse, NY 13210
315-470-6644