SHARE:
Natural Resources Management Program First to Earn SAF Accreditation
ESF program meets national standard for education of natural resource professionals

2/10/2015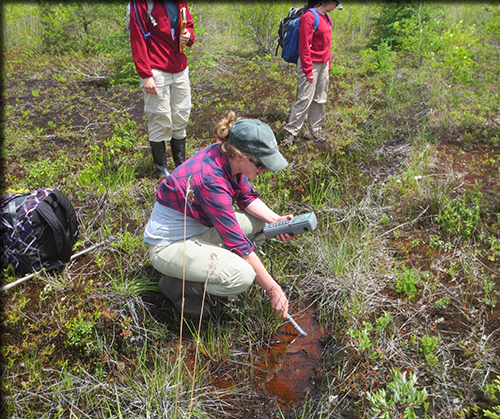 ESF's natural resources management program is the first program of its kind in the nation to receive accreditation by the Society of American Foresters (SAF).
The college earned the distinction effective the beginning of 2015.
"This accreditation acknowledges that our program meets national standards in the education of natural resource professionals," said Dr. David Newman, chair of ESF's Department of Forestry and Natural Resources Management. "We are the first program to be accredited under these new standards, which are designed specifically for programs dealing with the management of natural resources and ecosystems."
There are about 100 undergraduates majoring in natural resources management at ESF. Newman said the new accreditation will open up professional opportunities for graduates of the program.
"It's likely that certifying bodies and agencies that grant licenses in professional fields will look upon this as a badge of expertise. It acknowledges the status of our students' education and training as resource managers," he said.
Carol Redelsheimer, director of science and education for the SAF, said the organization began accrediting forestry programs in 1935 and then branched out into related programs such as urban forestry and, more recently, natural resources and ecoysystem management. She said accredited programs teach students to not only inventory forested lands but to conduct analyses of what they find and think critically about environmental problems.
"One of the strengths of the ESF program is that it teaches students these skills, to work collaboratively with other professional managers, but not only that, to look logically at the resources that are there and think critically about the management of natural resources for the benefit of the environment," Redelsheimer said.
ESF's forestry program has been accredited by the SAF since 1935. Other SAF-accredited programs within the department include forest ecosystem science and the master of forestry degree. All three programs were recently reaccredited.
The natural resources management program introduces students to a range of subjects, including soils, water, vegetation, wildlife and recreation. Students drawn to the program typically have an interest in natural settings and environments, enjoy nature and want to develop the skills to conserve, steward and manage natural resources and the environment. They use ESF's 25,000 acres of forested property as outdoor classrooms and laboratories. Students graduate with professional competency in management skills and a strong foundation in the social and biophysical sciences.
Recent ESF News
News Archives
Communications & Marketing
SUNY-ESF
122 Bray Hall
1 Forestry Drive
Syracuse, NY 13210
315-470-6644