SHARE:
ESF a College that "Pays You Back"
Princeton Review gives ESF high marks for great academics, career prep

2/11/2015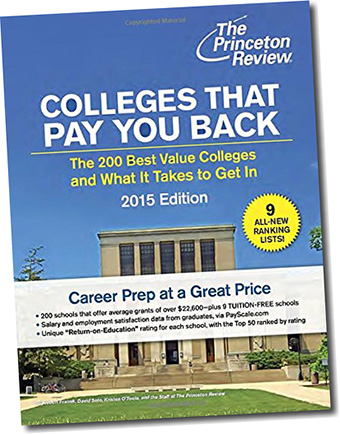 ESF is one of the nation's best colleges for students seeking great academics, outstanding career preparation and generous financial aid, according to The Princeton Review's Colleges That Pay You Back: The 200 Best Value Colleges and What It Takes to Get In - 2015 Edition.
The College is one of 200 schools The Princeton Review profiles in its book and on its website at http://www.princetonreview.com/colleges-pay-you-back
The Princeton Review developed a "Return-on-Education" (ROE) rating to choose the 200 colleges that are included on the list. ROE measures 40 weighted data points - everything from academics, cost, financial aid and student debt to statistics on graduation rates, alumni salaries and job satisfaction. The ROE rating is based on data collected in 2013-14 from surveys of administrators and students at 650 colleges, plus salary surveys conducted by PayScale.com through April 2014 with alumni from the same schools.
ESF is also ranked #10 in a second category listing the Princeton Review's "Top 25 Best Schools for Making an Impact."
The Princeton Review editors praise ESF for its "specialization and selectivity." The "Career Information" section of the profile lists a high ROE rating of 85 for ESF. The profile also reports PayScale.com figures on median salaries of ESF alumni, showing the median starting salary as $44,800 and median mid-career salary as $79,300.
Recent ESF News
News Archives
Communications & Marketing
SUNY-ESF
122 Bray Hall
1 Forestry Drive
Syracuse, NY 13210
315-470-6644