SHARE:
HSBC Staff Volunteers at Thousand Islands Biological Station
Invasive plants are targeted

2/9/2010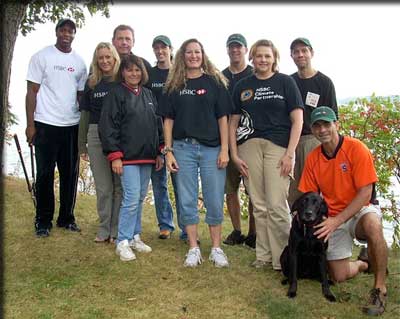 Nine staff members from HSBC Bank in central and western New York helped remove invasive plants from Governor's Island in the Thousand Islands, home of the Thousand Islands Biological Station (TIBS), as part of helping shut down the field station for the winter.
HSBC, which supports environmental and educational programs throughout the world, has established a partnership with the SUNY College of Environmental Science and Forestry (ESF) through which HSBC has awarded several grants to the College's field stations and regional campuses. In addition, HSBC staff members volunteer their time to help improve one of those ESF facilities, such as TIBS.
Led by Vice President Diane F. Macri and First Vice President (and ESF College Foundation board member) Stephen A. Mitchell, the HSBC crew spent a day removing Japanese knotweed, an invasive plant that can crowd out desirable native plants, from the field station. The volunteers also helped prepare the station for its closure for the winter.
"With HSBC's philanthropic focus on education and the environment, the partnership with ESF is a natural," Macri said.
TIBS Director John Farrell added, "HSBC's support helps keep our educational and research programs strong. Whether financial support, or hands-on assistance such as a volunteer work day like today, HSBC helps ESF improve our world."
HSBC grants to ESF field stations have totaled more than $150,000 in recent years. One grant will assist in construction of a new facility at TIBS that will provide housing for visiting scientists and space for meetings and classroom work.
An HSBC grant also helped establish the College's Costa Rica Field Station in Coyolito, Costa Rica, a base of operations for research related to dry tropical forest ecosystems. Another HSBC grant to ESF helped restore the arboretum of the College's Ranger School in Wanakena, N.Y., in the western Adirondacks, where ESF students learn tree identification. A grant from HSBC also helped the College renovate the historic Huntington Lodge at the Adirondack Ecological Center, part of the College's Huntington Wildlife Forest in Newcomb, N. Y. The renovated Huntington Lodge will provide housing for visiting scientists and conference attendees, and space for small meetings.
TIBS serves as a center for research and education related to ecosystems of the St. Lawrence River and the Thousand Islands, with a major focus on sport fisheries, wetlands restoration and water quality.
Recent ESF News
News Archives
Communications & Marketing
SUNY-ESF
122 Bray Hall
1 Forestry Drive
Syracuse, NY 13210
315-470-6644