SHARE:
Career Fair Links Students, Prospective Employers
Annual event brings 85 green employers to campus

2/25/2015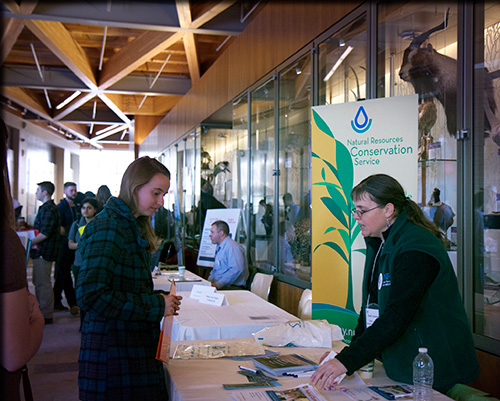 With more than 85 potential employers on hand, Taylor Della Rocco went into ESF's Environmental Career Fair with a plan.
"I'm going to talk to all the businesses there and find out what they're doing and what I can do to prepare myself for my career when I graduate," he said.
The career fair brings together representatives from a broad range of organizations that offer careers associated with the environment. This year's fair, held Feb. 25 in the Gateway Center, boasted organizations that included national, international and local corporations, and governmental and non-profit agencies.
Della Rocco, a junior environmental science major, also planned to keep his options and mind open at the event.
"Everyone has their dream job," he said, "but there might be something else you've overlooked or didn't know existed that you may find more interesting."
For Della Rocco, that dream job involves joining the ranks of environmental conservation officers.
"There's a lot of interest in it, but it's hard to get a job because no one's leaving the field. It's not a job - it's a career - something you look forward to going to every day," he said. "But I may find something that is more interesting. I could find my dream job and have to adjust my goals."
This will be the third time Della Rocco attended the career fair. "I even went as a freshman," he said. "I just walked around and looked at the different employers." During his sophomore year, he stepped it up and talked to the company representatives on hand.
As a veteran career fair attendee, Della Rocco offers advice for those who are just stepping into the career fair waters. "Dress to impress," he said. "Your first impression lasts a long time and it could be the difference between getting an internship or not getting one."
Another tip: "Have a resume or something with your contact information to hand them." Della Rocco has owned his own landscaping business since he was in high school, "Della Rocco Landscaping," and uses his business cards to share his contact information.
Dean Hackett of Hunt Engineers, a full-service consulting and design firm noted the ESF career fair is fertile ground for finding employees. "ESF is a great feeder school. The students are high quality and very grounded," he said.
His colleague Luke Grasmeyer is proof of that statement. Grasmeyer graduated from ESF in 2011 with a bachelor's degree in landscape architecture and was discovered by Hunt Engineers at the career fair that year. This year Hunt Engineers was at the fair looking to bring another landscape architect on board.
"We always find good quality candidates at the career fair," said Scott Jones of HDR, an architectural engineering and biological sciences consulting firm. Jones, '00, EFB, said the firm has been coming to the career fair for 10 years and ESF employees make up 30 percent of the employees in the Syracuse office.
"Over three-quarters of the organizations here today have full-time, permanent opportunities available," said Dr. John Turbeville, assistant dean for student affairs and director of career services. "From the students' perspective, knowing that opportunity exists is very encouraging."
Recent ESF News
News Archives
Communications & Marketing
SUNY-ESF
122 Bray Hall
1 Forestry Drive
Syracuse, NY 13210
315-470-6644