SHARE:
Career Fair Draws 63 Employers to ESF
Ninth annual event connects students with opportunities

2/24/2010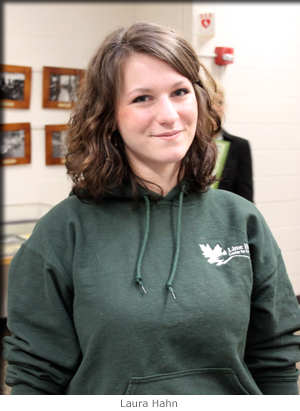 A year ago, Laura Hahn EFB '09 attended the ESF Environmental Career Fair as an undergraduate in search of a job.
This year, she came back as a full-time employee at an environmental center to speak to prospective employees.
Hahn, the public programs coordinator at Lime Hollow Center for Environment and Culture in Cortland, N.Y., said she got her job because of the career fair. She is employed at Lime Hollow through the AmeriCorps program.
"A lot of ESF students work at Lime Hollow as camp counselors," she said. "It's a really good fit for us."
Hahn was one of many ESF alumni staffing tables at the College's ninth annual career fair in Moon Library. The event drew 63 organizations that included science and technology businesses, engineering firms, consultants, landscape architecture firms, state agencies, not-for-profit organizations and graduate schools. John Turbeville, ESF's career planning and development officer, said the career fair was the largest such event ever held at the College.
"It's a great thing that they have here," said student Ryan Reed PBE, a junior who recently transferred to ESF from an area community college. Reed, whose curriculum requires students to do an internship before they graduate, had just dropped off a resume with a company in the pulp and paper field. "It's great that students can come in and talk to employers," he said.
Alumni John Gifford FNRM '82, MS '84, and Jeff Denkenberger FNRM '04 represented Forecon, Inc., which provides forestry and environmental services throughout the Northeast. The company was founded by the late Curtis Bauer, a 1950 graduate of the College and a longtime member of the College Board of Trustees.
Gifford, a Forecon vice president, said the number of employers at the fair and the interest displayed by the students could be a sign that the economy is strengthening. "This says there are opportunities for students," he said.
In addition to being a prospective employer, Gifford had another reason to be concerned about employment prospects for college students: His daughter, Regan, is an ESF junior studying natural resources management.

Recent ESF News
News Archives
Communications & Marketing
SUNY-ESF
122 Bray Hall
1 Forestry Drive
Syracuse, NY 13210
315-470-6644