SHARE:
Mighty Oaks Honor Student-Athletes at Banquet
2014-15 marks successful year for Mighty Oaks

3/19/2015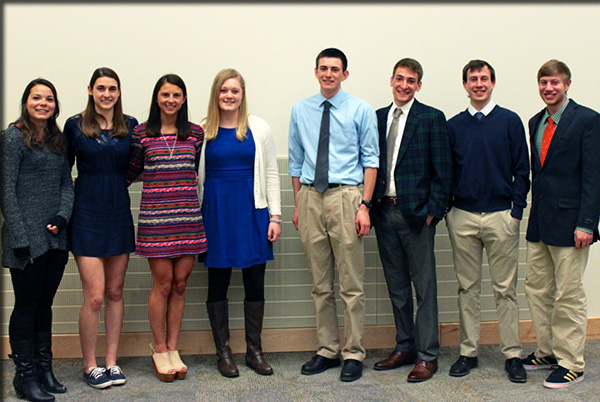 Sounds by the student band the Frontiers and the smell of dinner from Dinosaur BBQ filled the air at the Gateway Center on March 18 as ESF honored its student-athletes after one of the most successful athletics seasons in school history.
Mighty Oaks Athletics Coordinator and men's and women's soccer Coach Dan Ramin started the evening with heartfelt words about the importance of camaraderie and friendship that develop in college sports. "Look around you, you can always count on your teammates for friendship and support the rest of your lives," Ramin said.
Robert French, vice president for enrollment management and marketing, announced the USCAA Academic All-Americans and the USCAA National All-Americans. French and ESF President Quentin Wheeler also officially presented men's cross-country All-American Timothy Callahan with the 2014 Chancellor's Scholar Athlete Award that was bestowed upon him previously.
The coaches recognized graduating seniors and announced the individual team Most Valuable Player and Most Improved Player awards.
Highlights of the 2014-15 year included the men's cross-country team winning its fourth straight USCAA national title; the women's cross-country team finishing third in the national championship; and the women's soccer team finishing with a 15-2 record and a #2 seed at the USCAA national tournament. Every ESF athletic team improved its record and level of competitiveness in comparison to previous seasons.
In the fall of 2015, the Mighty Oaks will begin competition in the Hudson Valley Intercollegiate Athletic Conference.
2014-15 Academic All-Americans
Thomas Arcuri
Haley Canham
Brendan Covert
Jenny Frank
Ray George
Nicholas Grieco
Samantha Hollister
Chris Kane
Megan Kuczka
Elle Leach
Makayla McCormick
Ashley Miller
Kiana Morse
Joey O'Reilly
Ariel Roys
Kyna Sanchez
Eli Wildey
Cambria Ziemer
National All-Americans
First Team:
Thomas Arcuri
Timothy Callahan
Heather Carl
Kiki Hilmer
Dan McGraw
Ashley Miller
Stephen Slonsky

Second Team:
Kyle Bardwell
Camila Ferguson-Sierra
Reed Scott
Bryony Striffler
Cambria Ziemer
Individual Team Awards
Men's Cross-Country:
MVP -Timothy Callahan
Most Improved - Nick Grieco, Stephen Slonosky
Women's Cross-Country:
MVP - Cambria Ziemer, Andrea Szewczyk
Most Improved - Cara Keogh
Men's Soccer:
MVP - Kyle Bardwell
Most Improved - Dan McGraw
Women's Soccer:
MVP - Bridget Cuddihy
Most Improved - Anna Bishop
Men's Golf:
MVP - Alex Brown
Most Improved - Brian Walsh
Men's Basketball:
MVP - Danny MacElrath
Most Improved - Couri Leuschner
Men's Woodsmen:
MVP - Mitch Hooker
Most Improved - Alex Hascha
Women's Woodsmen:
MVP - Kelley Corbine
Most Improved - Rachel Anderson
Men's Track & Field:
MVP - Tom Arcuri
Most Improved - Dan McGraw
Women's Track & Field:
MVP - Shannon Gordinier
Most Improved - Emily Verbeck
Recent ESF News
News Archives
Communications & Marketing
SUNY-ESF
122 Bray Hall
1 Forestry Drive
Syracuse, NY 13210
315-470-6644