SHARE:
ESF Students Honored for Park Service
New York state officials say: Thanks and please keep up the good work

2/26/2010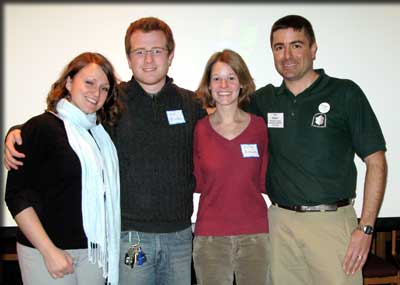 Left to right: Elizabeth Mix (ESF Service Learning Coordinator), Matthew Brinka, Erica Brown (award winners), Tom Hughes (NY Office of Parks)
Nearly 200 State University of New York College of Environmental Science and Forestry (SUNY-ESF) students were honored Thursday for their participation in F.O.R.C.E.S. (Friends of Recreation, Conservation and Environmental Stewardship) in conjunction with the Council of Park Friends by the Office of Parks, Recreation, and Historic Places.
Tom Hughes, natural resource steward for the New York State Office of Parks, Recreation and Historic Preservation, said, "Since the spring of 2008 and the launch of OPRHP's Natural Resource Stewardship and Environmental Interpretation Initiative, NYS Parks has significantly enhanced its partnership with SUNY-ESF faculty, staff and students for natural resource and park improvement projects."
Hughes thanked the 200 SUNY-ESF students, staff and faculty who have contributed to projects at several state parks in the Central and Finger Lakes regions. Specifically, ESF Saturday of Service participants have contributed to the removal of invasive plants and improvement of the interpretive trails at Green Lakes, Clark Reservation and Chittenango Falls State Parks.
Other projects students have contributed to include the organization and cleaning of the nature center at Clark Reservation; removal of Japanese stilt grass and pale swallow-wort at Selkirk Shores State Park; fish surveys at Clark Reservation and Two Rivers State Parks; environmental education at Environmental Field Days at Green Lakes State Park; and public outreach at an invasive species workshop at Sisters of St. Francis Spirituality and Nature Center at Alverna Heights (next to Green Lakes).
Hughes said, "In addition to acknowledging the great many volunteers that have contributed to park projects over the past couple of years, we are piloting a new model program entitled Volunteer F.O.R.C.E.S. Our goal is to enhance our regional NYS Parks' involvement with SUNY-ESF and other interested partners. We hope to inspire students to explore careers in environmental science and public service."
Two students were singled out for special awards:
Erica Brown of Brookhaven, N.Y., was named the Outstanding Undergraduate Volunteer. Brown is a junior majoring in Environmental Science.
Matthew Brinca of Webster, N.Y., was named the Outstanding Graduate Student volunteer. Brinca is studying for a master of science degree in Forest Resources Management and Recreation Management.
Recent ESF News
News Archives
Communications & Marketing
SUNY-ESF
122 Bray Hall
1 Forestry Drive
Syracuse, NY 13210
315-470-6644