SHARE:
Stone Quarry Art Park Melds Art and Environment
ESF alumna Emily Zaengle named executive director

3/30/2015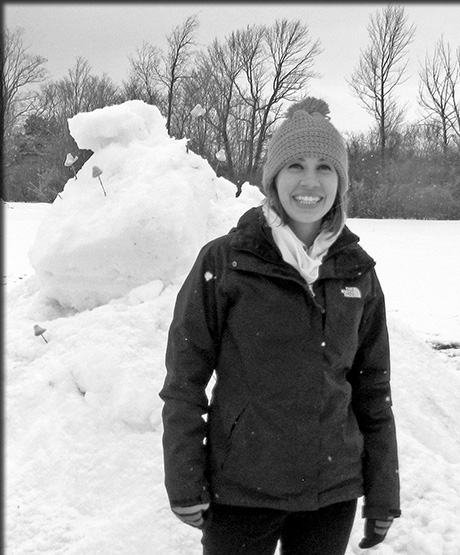 "Stone Quarry Hill Art Park's mission statement centers on art and the environment. It's the 'and' that's important. It's never 'or, '" said Emily (Gates) Zaengle (MLA '14). "
Zaengle is the new executive director of the Stone Quarry Hill Art Park (SQHAP), 104 acres in Cazenovia that is home to one of the first outdoor sculpture parks in the country.
Zaengle's relationship with SQHAP began while she was working on her dual master's degree program in landscape architecture (LA) at ESF and museum studies at Syracuse University.
Combining landscape architecture and museum studies wasn't a traditional dual major, she said. "Typically dual degree programs are business and something else. They're useful combinations," she noted. "But, the office of graduate studies was open to my interest in combining landscape architecture and museum studies. They said, 'If you think they overlap and you have a plan for that then by all means we support you,'" she said.
She found that overlap when looking for the required internship for her museum studies program. A professor suggested SQHAP as it combined her two areas of interest - the environment and art.
"I had never even heard of it before even though grew up relatively close by in West Winfield," a town approximately 30 miles from Cazenovia. "I looked it up online and thought, 'Oh, this fits with my interest,'" she said.
She visited SQHAP, interviewed with the director and "fell in love with the place." Zaengle did an internship in 2012 and continued in a volunteer capacity while she finished her degrees.
Five months after graduating, she was approached by SQHAP's board president. SQHAP had been without a director for the past year and was impressed with her previous work as an intern and volunteer. She took the reigns of at SQHAP on Jan. 5, 2015.
Zaengle is excited about the possibilities for the park as it prepares to celebrate its 25th anniversary. SQHAP was once the residence of Dorothy Riester, a sculptor and proponent of the environment, who gifted the land as an art park to allow others to enjoy nature and the art.
Zaengle is looking forward to carrying the park founder's vision into the future. "I want to make it relevant to issues going on today. She (Riester) was all about contemporary issues and fighting for conservation. When she put easements on her land it wasn't a well-known practice. We need to carry that spirit forward and look at issues facing today's environment."
"My challenge, and what I see as an opportunity, is how to focus on that 'and,' "she said. "Education is a big connector in bridging the gap between art and nature," she said. "We make sure all our events are multifaceted."
She points to May's Kite Fest as an example of this approach. The festival will take place during the SQHAP's month long theme "art takes flight." Kite Fest will be complimented with events that have an educational component, for example a workshop on the plight of the monarch butterfly. "Milkweed - their primary food source - is becoming scarce along roads and fields," she said.
Zaengle is also drawing on her ESF and SU connections to bring new exhibitions to SQHAP. She is working with LA senior Kate Cheesebrough and the Red Cup Project to bring a temporary installation to SQHAP in late summer coinciding with a screening of the movie "Waste Land," a documentary about an artist who creates large-scale portraits out of pieces of garbage. The Red Cup Project repurposes red plastic drinking cups to create art installations.
She sees the connection with ESF as vital to bringing the next generation out to the SQHAP. "It's a place that's open to new ideas and experimentation," she said. "The concept of art is really changing. It's not just a static piece of sculpture that sits on the landscape. Nature itself is art --it's how you present it."
Recent ESF News
News Archives
Communications & Marketing
SUNY-ESF
122 Bray Hall
1 Forestry Drive
Syracuse, NY 13210
315-470-6644