SHARE:
Newcomb Campus Seeks 2nd Artist in Residence
Applications sought for summer program

4/2/2015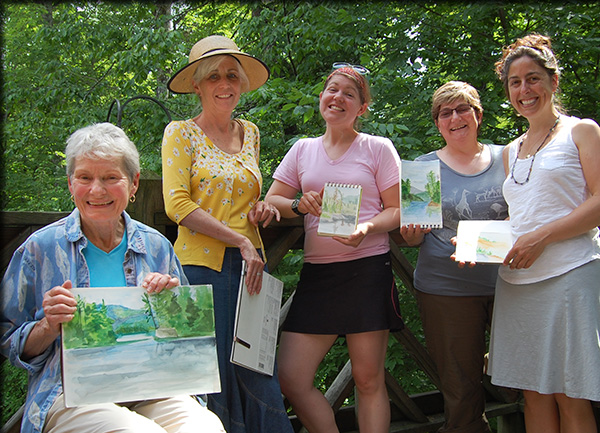 For generations, the Adirondack Mountains have been a source of inspiration for artists. This summer, one artist will have the opportunity to explore his or her own relationship and connection with the Adirondack landscape while serving as the artist-in-residence at the ESF Newcomb Campus.
The artist-in-residence program is part of ESF's Newcomb-based Northern Forest Institute (NFI) and reflects the institute's interdisciplinary approach to conservation education. In addition to increasing interactions between the creative process and the general public, the residency highlights the important history of artists in the Adirondacks. The Adirondacks (and Catskills) provided the wild and rugged American landscapes that Hudson River School painters drew on for their earliest inspirations. Winslow Homer, who traveled extensively during his career, spent significant time in the Adirondacks and included Newcomb residents and nearby locales in his famous watercolors. The program also honors the legacy of Archer and Anna Hyatt Huntington, who donated the 15,000-acre Huntington Wildlife Forest to the college. Anna Hyatt Huntington was a world-renowned sculptress who often worked out of her art studio on the Newcomb property.
Based out of ESF's Adirondack Interpretive Center (AIC), the artist-in-residence will explore his or her artistic interests and passions while sharing the artistic process and resulting work with AIC visitors. The artist is provided with studio space, onsite room and board, and a modest stipend, as well as the opportunity to work in a beautiful and supportive educational setting.
The artist-in-residency program is open to artists at all levels of their profession, including MFA students.
Last summer, Frances Gaffney was NFI's first artist-in-residence. In addition to informally speaking with AIC visitors, she displayed her work and led public workshops. "Everyone I met along the trails was excited to see an artist painting outdoors," said Gaffney. "Their interest and enthusiasm helped to make my summer residency rewarding and so much fun! The watercolor workshops yielded some serious breakthroughs for those who wished to learn the art of painting from nature."
Her residency concluded with an art exhibit at ESF's main campus in Syracuse. The exhibit showcased Feeling Is the Prayer, an 11-piece series of drawings and paintings exploring the concept that our beliefs and thoughts help to define our reality. The series, currently displayed at barVino in North Creek, N.Y., is a unique and thought-provoking intersection of art and science, with connections to philosophy, physics, environmental conservation and human relationships with nature.
Individuals interested in the program may contact Kristin Pasquino at kpasquin@esf.edu or (518) 582-2000.
Recent ESF News
News Archives
Communications & Marketing
SUNY-ESF
122 Bray Hall
1 Forestry Drive
Syracuse, NY 13210
315-470-6644