SHARE:
Peter "PJ" Connell and Kristy Northrup receive Chancellor's Awards
SUNY Honors ESF Student Excellence

4/3/2015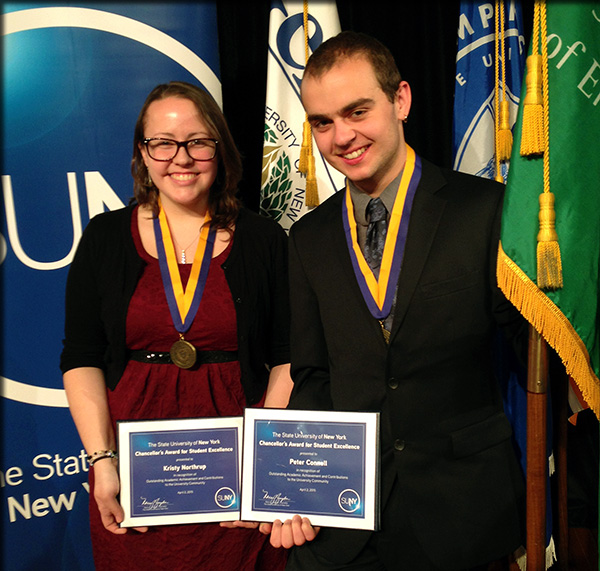 Two students from the SUNY College of Environmental Science and Forestry (ESF) were honored with the Chancellor's Award for Student Excellence.
Peter "PJ" Connell of Oceanside, New York, and Kristy Northrup of Marmora, New Jersey, received the honor, which includes framed certificates and medallions that can be worn at commencement.
Chancellor's Award honorees excel both in academic achievement and in at least one of the following areas: leadership, athletics, community service, creative and performing arts or career achievement. The students were honored at a reception hosted by SUNY Chancellor Nancy Zimpher April 2.
Connell is a senior environmental resources engineering (ERE) major. He served two terms as president of the Undergraduate Student Association, was a resident assistant and senior resident assistant, a teaching assistant for ERE and Senior Class Marshal. He has volunteered with the Rescue Mission, Relay for Life, the Salvation Army, and as a merit badge facilitator for the Boy Scouts of America.
Connell is a student in ESF's Upper Division Honors Program and has been named to the dean's and president's lists repeatedly.
He is the current student representative on the ESF College Foundation Board of Directors and the ESF Alumni Association Board of Directors. He serves as an ESF tour guide/student ambassador, a Writing Resources Center intern, and peer tutor for the ESF Academic Success Center. He is a member of the service fraternity Alpha Phi Omega.
Northrup is a senior chemistry and environmental science dual major. She is a teaching assistant, actively involved in several student organizations including serving as president of the ESF Music Society and secretary of the Ecotones. She is a member of ESF's Alchemist's Society, and member of Alpha Chi Sigma Honor Society and Green Campus Initiative. She is a member of the Undergraduate Student Association and the Chordatas, an all-female chorale group. She has been involved in numerous community service groups, including Earth Team volunteer, and service for Hurricane Katrina Relief.
"It is my highest honor to recognize the achievements of SUNY students who have excelled not only academically but as leaders on their campuses and in their communities," said Chancellor Zimpher. "Students receiving this award are to be commended for their excellence as role models, artists, scholar athletes, and civic volunteers. Their leadership can serve as an inspiration to all SUNY students and a tremendous point of pride for the entire SUNY family. Congratulations to all of the students receiving the 2015 award."
Recent ESF News
News Archives
Communications & Marketing
SUNY-ESF
122 Bray Hall
1 Forestry Drive
Syracuse, NY 13210
315-470-6644