SHARE:
ESF Student On Board for SEA Semester Oceans & Climate program
Environmental science major sets sail from New Zealand

4/8/2015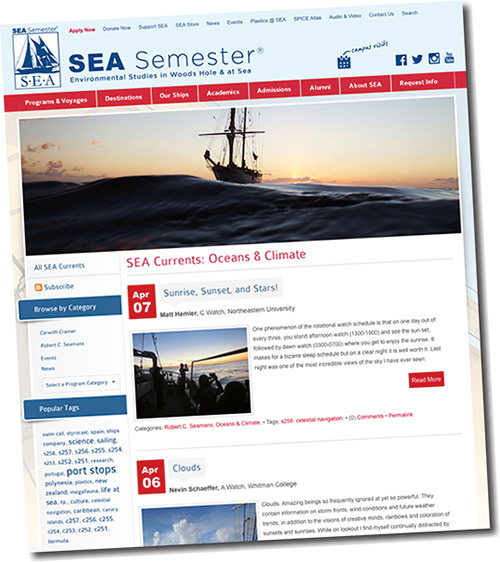 Nicole Harbordt, a junior at the SUNY College of Environmental Science and Forestry (ESF), is participating in SEA Semester's Oceans & Climate program.
Harbordt, an environmental science major from Frederick, Maryland, joins undergraduate students from top colleges and universities nationwide who are participating in the program that takes a close look at global climate change. The students will carry out independent research on climate interactions in a less-studied region of the Pacific Ocean - all from the deck of a tall ship sailing research vessel.
After a highly selective application process, the students first spent six weeks taking courses on shore at SEA Semester's campus in Woods Hole, Massachusetts. Guided by SEA faculty and local science and policy experts, they addressed and tackled some of the prickliest ecological problems facing Oceania's waters and port cities - from coral reef damage in French Polynesia to freshwater scarcity in Samoa; from fisheries threats in New Zealand to rising sea level impacts on communities in Kiribati.
Having finished classes on shore in Woods Hole, Harbordt traveled to New Zealand to set sail on the SSV Robert C. Seamans. During the next six weeks, the students will sail 3,000 nautical miles from New Zealand to Tahiti, exploring port stops in the Chatham Islands and Tubuai as they continue their place-based study of the South Pacific region.
Recent ESF News
News Archives
Communications & Marketing
SUNY-ESF
122 Bray Hall
1 Forestry Drive
Syracuse, NY 13210
315-470-6644