SHARE:
Ph.D. Student Aims Video Lens at Namibian Savanna
Planned documentary to serve as M.F.A. thesis

4/8/2015
Copyright © All Rights Reserved by copyright holder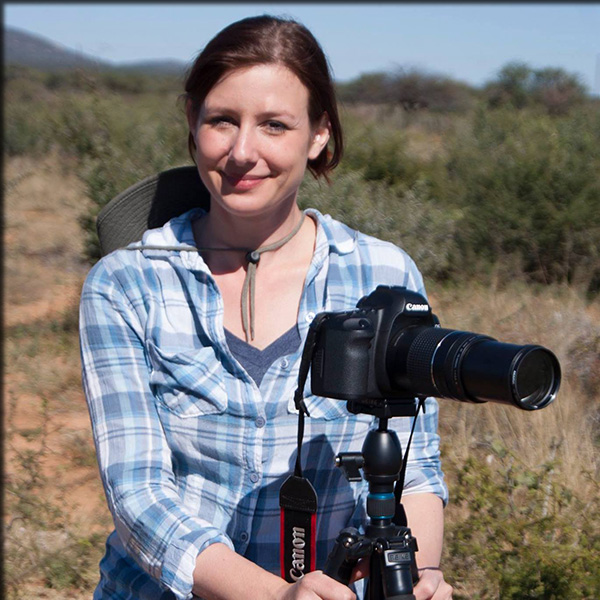 Ph.D. student Tiffany Deater takes a cue from famed environmentalist Aldo Leopold in naming the documentary she and her partner, Jarrod Hagadorn, hope to produce about the Namibian savanna.
Leopold used the phrase "thinking like a mountain" to describe the complexity of ecosystems; Deater calls her work, "Thinking Like a Savanna."
The full-length documentary, which will serve as a thesis for her Master of Fine Arts degree from Syracuse University as well as an educational tool for the Cheetah Conservation Fund in Namibia, Africa, will take a different approach from the nature and environmental films that the general public typically sees.
"We want to capture an overview of the ecosystem, showing everything -the birds, insects, acacia trees, the grasses and soil. We want to look at a basic question: What is an ecosystem?" Deater said. "People don't usually see themselves as part of an ecosystem. They think of themselves as something outside or separate. Problems often arise when people and animals share the same space, particularly when those animals are predators like leopards and cheetahs. We want to look at ways to solve those problems. The people aren't leaving and we don't want the animals to leave."
Both Deater and Hagadorn, who are engaged to be married, are ESF alumni. Deater earned her bachelor's degree from ESF in 2008, then an M.A. in English from SUNY Oswego in 2010. In addition to now pursuing her Ph.D. at ESF and her M.F.A. from SU, she teaches freshman composition and cinema classes part time at Oswego and an eco-cinema class at ESF. Hagadorn, who was Deater's ESF classmate as an undergraduate, teaches composition and Native American literature at Oswego.
Their first trip to Namibia was in the summer of 2014 when they accompanied one of Deater's advisers, Dr. Scott Turner of ESF's Department of Environmental and Forest Biology, on a trip to Namibia, where he has been involved in teaching and research for 30 years. Deater and Hagadorn's role was to produce video to be used in educating Namibian science students.
During the trip, they shot enough video to produce a 4-minute, 40-second film, "The Nuptial Gift," about the mating practice of the armoured cricket. That film can be seen on the Audience Awards website and was chosen to be part of the 2015 SUNYwide Film Festival.
The upcoming documentary requires a trip back to Namibia. Deater and Hagadorn have launched a crowd-funding campaign on Kickstarter to raise $4,000 to cover airfare, car rental, food and accommodations. They will depart April 20 and spend three weeks gathering the footage they need to complete the documentary. The monthlong campaign runs through April 27.
Deater plans another full-length documentary to complete her doctorate.
"I want to look at how cinema has influenced America's view of the environment since Teddy Roosevelt and his trips to Africa," she said. "Those trips brought up the notion of the 'great white hunter.' We also have lots of films that anthropomorphize animals, like Bambi."
Recent ESF News
News Archives
Communications & Marketing
SUNY-ESF
122 Bray Hall
1 Forestry Drive
Syracuse, NY 13210
315-470-6644