SHARE:
Augmented Reality Games Used To Teach
Dr. Folta takes environmental interpretation to new level

4/17/2015
Copyright © All Rights Reserved by copyright holder
"Augmented reality" isn't the title of a new science fiction movie; it's the focus of Dr. Elizabeth Folta's research.
Folta, assistant professor in ESF's Department of Environmental and Forest Biology, uses augmented reality (AR) to create educational video games.
AR involves taking virtual information and overlaying it on the real world. Folta uses the example of astronomy apps that allow people to point smart phones at the night sky and the app tells them what constellations are in front of them.
But augmented reality games (ARG) aren't new.
"Augmented reality games have been around longer than smart phones," said Folta. "They used to be played on the PDAs (personal digital assistants) that everyone had."
Since those early days, ARGs have changed with technology. They can now be created online and played on smartphones and tablets. "Everything happening on the screen is combining with what's happening in the real world with information given on digital technology," she said.
Folta and graduate student Jackie McCabe are working with New York State Parks to develop an ARG the public can use when visiting Green Lakes or Clark Reservation state parks. The project is the second ARG Folta and her students have done for the state parks system. "New York State Parks is helping to fund the project and the equipment that we have is recycled from the original project which was grant funded," said Folta. A grant application for the latest ARG has been submitted.
The game, Interstellar Intruders, will focus on invasive species, as the first ARG did. "The state parks requested more invasive species programming," Folta said, "so we're creating another one." In the promotional materials, Interstellar Intruders is described as "a new and terrifying creature has been found at the park and it's your job to figure out what it is, where it came from, and what it wants with our native species!"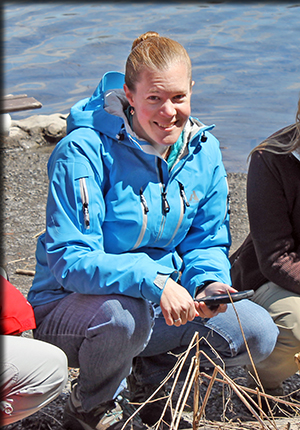 "Park visitors will be able to download the game from home or at the park (Green Lakes State Park or Clark Reservation) and choose from one of three roles to solve the game's mystery. These roles include a New York State Parks manager, a New York State Heritage Program biologist, and a ESF graduate student researcher," according to McCabe. "Visitors can play alone or in groups, with the idea being that the mystery will be easier to solve in a group versus alone, but one can still solve the mystery alone."
An ARG requires the players to "run around from location to location," Folta explained. "You're not just making a character on the screen move. You're running around and exploring the different parks."
Folta did her dissertation on AR in 2010. "It's a lot of fun and something that is up and coming and shows promise to be used in these informal environments," she said.
ARGs have been used in formal education settings for a while, said Folta. "Now we're trying to get it in informal environments such as the state parks."
"In the state parks, they have one educator for the entire Central region to cover 20 parks," she said. "This is another way to get education out to the public without somebody having to physically be there to give a program."
Currently the first game, Conservation Adventure for Clark Reservation State Park in Jamesville, is still in use. That game was primarily used with school and science groups, such as ESF SCIENCE, the College's summer camp that works with children in the city of Syracuse. Students and campers would go to the park and play the game. This time, the game will be available to the public.
"We'll be able to see what the public will learn from the experiences dealing with invasive species. It's open to everyone this go around," she said.
The same theme and idea will be used for each park, but the game will be individualized for the location.
"One great thing about these resources is they're free to make and free to download," said Folta.
Recent ESF News
News Archives
Communications & Marketing
SUNY-ESF
122 Bray Hall
1 Forestry Drive
Syracuse, NY 13210
315-470-6644