SHARE:
Quidditch Tournament Benefits Local Charities
Area colleges compete in wizarding-world team sport

4/16/2015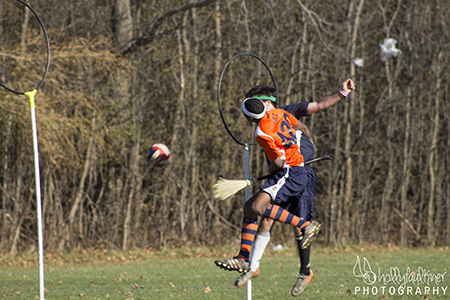 The world of Harry Potter lends a hand to area charities this weekend as the King's Cup Quidditch Tournament flies into Syracuse.
Quidditch is a wizarding-world team sport played on magical broomsticks that allow players to fly through the air to make goals and score. Saturday from 10 a.m. to 4 p.m. at Lower Hookway Field, students from area colleges will play the non-magical version of the game to benefit area non-profits.
The tournament, in its second year and organized by the Syracuse University Quidditch Team, is a way for the club sport team and members of the larger Quidditch community to give back to the public, said Miriam Powelson, a senior at the SUNY College of Environmental Science and Forestry (ESF) and the head captain of the Syracuse University Quidditch Team.
Tournament participants come from Quidditch college teams including SUNY Cortland, the University of Buffalo, RIT and the University of Rochester. Forty students from ESF and SU are also registered.
"Last year's tournament raised over $1,500 for local charities," said Powelson.
The King's Cup is a mercenary tournament. "A player signs up individually and pays a registration fee," said Powelson. "Those fees are pooled together and divided among the different charities based on how well the team does in the tournament."
Team rosters are created by a random assignment of the players based on the position they play in the game (chaser, beater, keeper, seeker). This year, 135 players will play for six area charities: Make-A-Wish, Clear Path, Helping Hounds, Habitat for Humanity, Red Cross, and ALS Association.
"We expect to raise over $1,800 from registration fees alone," said Powelson. Additionally, sales of T-shirts that are designed for each charity and serve as the team uniform, benefit the individual organizations. "Each team has been encouraged to sell as many T-shirts as possible because all the profits from the sale will go directly to the charity they represent," Powelson said.
The event is free and open to public and representatives of each non-profit will be on hand with information about their organization.