SHARE:
New Shrub Willow Planting for Renewable Energy Project
New planting of biomass fuel crop highlights the potential of biomass as source of renewable energy and jobs in New York

3/22/2010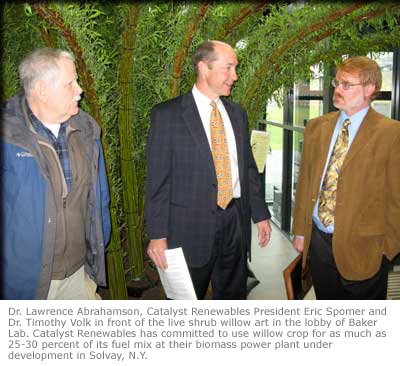 Leaders from Central New York today hailed new evidence of the vast potential of biomass renewable energy to deliver economic, energy, and agricultural benefits to Upstate New York.
At a press conference on the campus of SUNY College of Environmental Science and Forestry (ESF), Eric Spomer, president of Catalyst Renewables, announced plans to plant 200 additional acres of purpose-grown willow crops on leased farmland in Cayuga, St. Lawrence, and Erie Counties. The company had previously planted 600 acres of willow on land leased from farmers in Oneida, Lewis, Cayuga, and Livingston counties.
In addition, Mr. Spomer said the company plans to plant thousands of additional acres of the crop after federal rules governing the Biomass Crop Assistance Program are put in place. Those rules are expected to be finalized this summer.
Willow from this new planting and future plantings will be a fuel source for a new biomass power plant that Catalyst has under development for the village of Solvay, Onondaga County. Mr. Spomer noted that that plant is designed to use willow crop for as much as 25-30 percent of its fuel mix, which calls for planting 20,000 acres total. Catalyst Renewables plans to plant a total of 50,000 acres of willow crop statewide.
"Biomass renewable energy offers Upstate New York affordable renewable energy, permanent new jobs, environmental benefits, and new life for underutilized farmland," said Mr. Spomer. "No other source of new renewable energy can offer these benefits, and New York should embrace them as fully as possible."
However, Mr. Spomer added, New York will not see the energy, economic, and environmental benefits that biomass offers without policy steps that enable biomass renewable energy projects.
"While New York State does have the Renewable Portfolio Standard, that alone is not enough. Long-term power purchase agreements are imperative to secure the necessary project financing. Currently NYPA and LIPA are the only entities with the ability to purchase power long term."
Shrub willow is native to New York and can be harvested for use as a renewable fuel source in biomass power plants. Onondaga Renewables has been collaborating with the SUNY College of Environmental Science and Forestry (ESF) on efforts to develop faster-growing, higher-yield hybrid varieties using conventional plant-genetics techniques.
Dr. Cornelius B. Murphy, Jr. PhD, President, State University of New York College of Environmental Science and Forestry (SUNY-ESF) said, "We are pleased to see our purpose grown willow biomass research and development commercialized by Catalyst Renewables. The economic and environmental benefits for our New York farm and forest community are significant. These commercial deployments of willow biomass replace fossil fuels in the energy pipeline and directly adds to our national security by reducing dependence on foreign sources of energy."
"Green jobs are exactly what the region needs more of, and today's announcement highlights the significant potential of biomass renewable energy as a generator of new jobs and new economic growth," said State Senator John A. DeFrancisco (R-1-C, Syracuse). "In terms of its energy and economic impacts, biomass is a win-win for New York. We hope to see more of it."
"New York farmers are excited by the prospect of planting crops like shrub willow or perennial grasses, but need to know how to grow and manage these crops," said Tom Sleight, Executive Director of the New York Farm Institute. "These additional 200 acres to will greatly expand the knowledge base and build momentum for expanding bioenergy feedstock crops."
The willow crop can be harvested every three years. This energy crop is seen as both an alternative and a supplement to fuel that is gathered from forests and woody residue from logging operations.
Willow crops will absorb more carbon than is created by using it in biomass plants. These crops also help farmers manage essential soil nutrients in their fields.
Recent ESF News
News Archives
Communications & Marketing
SUNY-ESF
122 Bray Hall
1 Forestry Drive
Syracuse, NY 13210
315-470-6644